Air Ambulance Service for Patients Anywhere in the World
Air Ambulance Worldwide is a mobile intensive care provider that truly services the world. If you need to move a loved one in a compromised medical condition anywhere across the globe, we're here to help. Our air ambulance service is designed to take the stress of medical flight coordination completely off your hands. We have a team of friendly and knowledgeable flight coordinators standing by 24/7, ready to plan and oversee every detail of a patient's medical transfer, including ground transportation in the departure and arrival cities, private aircraft transportation, and a personalized medical team. All members of our medical team have years of ICU or ER experience.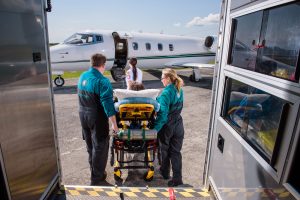 So, what sets our air ambulance service apart from other international or US air ambulance companies? Here are just some of the many highlights:
We sanitize all flight cabins from top to bottom after each transport, using Saniswiss sanitation systems. We ensure that every patient is in the most hygienic environment possible.
We have a perfect safety record, as evidenced by our ARGUS Gold rating.
Our full-time air ambulance pilots are all seasoned professionals.
We have a variety of different planes available for medical transfer, including Citations, Lear Jet 35, Learjet 55 and Gulfstream III.
Every member of our medical team has ICU/ER experience and we also have specialists in neonatal and pediatric care
No hidden costs.
With our expert medical staff, state-of-the-art aircrafts, and experienced pilots, our air ambulance company ensures that your loved one is in the most capable hands during his or her medical air transport. Also, we have a medical insurance expert on staff who will help you confirm benefits, submit, and track the claim to closure. This is all part of our effort to take as much of the burden off your shoulders as possible, and ensure that you're awarded the full compensation you're entitled to through your provider.
See more about how an air ambulance works.
If you're looking into air ambulance costs, there are certain circumstances when we can arrange discounted air ambulance services.
For additional information about our air ambulance flights, please call 727-781-1198 or e-mail us today and we can plan your flight in as little as two hours, if needed. We also provide a number of other mobile medical air services, including our medical escort service, critical care air transport, aeromedical services, and commercial stretcher coordination.