An Air Ambulance Company Serving the World, Dedicated to Patient Care & Comfort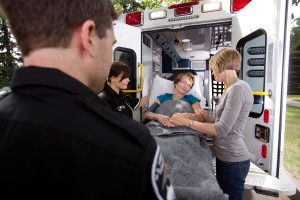 Air Ambulance Worldwide is dedicated to helping patients and case managers around the world enjoy hassle-free medical air travel no matter where they need to go. The staff at Air Ambulance Worldwide consists of experienced, dependable pilots, medical personnel and flight coordinators who will do everything in their power to make sure the transfer goes as smoothly as possible.
We are more than just an air ambulance company. Air Ambulance Worldwide is about making life a little easier for those whose lives have been complicated by unfortunate medical problems.
When patients and case managers enlist the help of Air Ambulance Worldwide, they know that they're in the hands of a company owned and operated by capable industry professionals. All of our medical team members have at least five years of ICU/CCU experience, and our full-time, seasoned pilots have an average of 14,000 flight hours. Our crews can fly high-risk patients that other companies cannot accommodate. Our flight coordinators manage every detail of the transfer and will provide you with an all-inclusive quote up front with no hidden fees.
The services offered by our air ambulance company include:
Bedside to bedside medical services – We will accompany you throughout your journey and provide ground transportation to and from our air ambulance. Additionally, at least two members of our medical staff will accompany you at all times.
Commercial Stretcher – For patients who require a medical stretcher on a commercial flight, we will coordinate every detail with the airline including obtaining a medical clearance and an on-flight privacy curtain.
Medical Escort – For those in need of extra assistance, our air ambulance company team can assign a medical escort to tend to your basic hygiene needs, provide wheelchair assistance, and administer oxygen or medications.
If you would like to learn more about our air ambulance company, please call 727-781-1198 or contact us today. We truly serve the world, no matter if you need to move a loved one across the US from Arizona to Florida, from the UK to Central America, or anywhere between and beyond.