Medical Air Service for Patients Across the Globe – Air Ambulance Worldwide
If you're searching for a safe, experienced, and dependable medical air service provider, look no further than Air Ambulance Worldwide. We have a variety of medical air services available for patients around the world and we can use our vast experience and second-to-none expertise to recommend a service that meets your needs.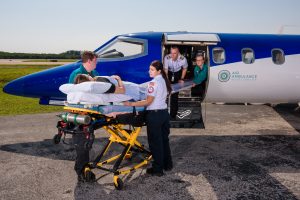 Our three main medical air services are:
Air Ambulance

Our comprehensive bed-to-bed medical air service includes ground transportation for the patient to and from our fully-equipped aircraft.
Specialized medical team members will accompany the patient and provide necessary assistance during transfer.

Commercial Stretcher Medical Flight

Designed for stretcher-bound patients on international commercial flights, we'll make all arrangements with the airline.
A highly trained medical team member will accompany the patient to their final destination, administering medical care along the way.

Medical Escort

A member of our medical staff will travel with the patient on a commercial flight to assist with basic needs, such as hygiene or oxygen.
We'll assist with booking the flight, ground transportation, and locating a receiving facility.
No matter which medical air service is determined to be best for your needs, you can rest assured that you'll be in the most capable and trustworthy hands. We always obtain a full medical report on each patient prior to transfer, and every detail of the transfer plan is ultimately based on the needs of the patient. This unwavering dedication to patient care and safety has helped us earn certification from EURAMI, an organization that provides accreditation to air ambulance providers around the world that feature exceptional medical protocols and aviation safety records. Additionally, we have an insurance specialist on staff to help our patients expedite the claims process.
To learn more about our medical air service, please call 727-781-1198 or e-mail Air Ambulance Worldwide today. From the US to the UK, Canada to the Caribbean, and beyond, we serve patients throughout the world.