Medical Air Service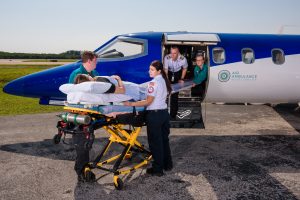 If you're searching for a safe, experienced, and dependable medical air service provider, look no further than Air Ambulance Worldwide. Air Ambulance Worldwide understands how stressful it can be to arrange travel plans for a loved one or patient who requires a medical evacuation, air ambulance service or medical assistance on a commercial flight, and we want to assure you that you will be in extremely capable hands from start to finish.
Dedicated Coordinators for Medical Air Services
Our specialty flight coordinators are available 24 hours a day, seven days a week to help you find the best and most cost effective solution for your needs. A flight coordinator will be assigned exclusively to your case to every detail of the journey, including:
Ticketing and travel logistics
Helping the patient navigate through security, including working with TSA officials to accommodate wheelchairs, oxygen tanks, stretchers, and other medical equipment
Assisting the patient at their departing gate
Assistance with boarding, including helping secure pre-boarding as needed
Helping the patient with de-boarding upon arrival
Managing ground transportation
Arrangements at a receiving facility, if needed
Medical Air Services to fit every need
We have a variety of medical air services available for patients around the world and we can use our expertise to recommend a service that best meets your needs. Our services include:
Air Ambulances
Comprehensive bed-to-bed medical air service including medical team member assistance and ground transportation for the patient to and from our fully-equipped aircraft
Fulltime, experienced pilots, each with thousands of hours flown and spotless safety records
Flight coordinators who work around the clock, 24/7 to manage your flight arrangements
Medevac Flights & Medical Evacuations
If you or a loved one need a medevac flight from almost anywhere in the world, we can help. Our private medical jets can fly into smaller airfields to better facilitate a medevac flight from remote and resort areas. In addition, many of our medical team members specialize in different areas of medicine, such as:
Pediatric
In-flight ECMO
Geriatric
Advanced Trauma Life Support
Commercial Stretcher Medical Air Service Flight
Designed for stretcher-bound patients on international commercial flights, we'll make all arrangements with the airline.
A highly trained medical team member will accompany the patient to their destination, administering medical care along the way.
Medical Escort
A member of our medical staff will travel with the patient on a commercial flight to assist with basic needs, such as hygiene or oxygen.
We'll assist with booking the flight, ground transportation, and locating a receiving facility.
No matter which medical air service is determined to be best for your needs, you can rest assured that you'll be in the most capable and trustworthy hands. Our unwavering dedication to patient care and safety has helped us a Gold rating from ARGUS as well as certification from EURAMI, an organization that provides accreditation to air ambulance providers around the world that adhere to strict medical protocols and have exceptional aviation safety records.
International Medical Air Service professionals
Our medical staff includes members who are fluent in Spanish, Dutch, Turkish, Greek and other languages, and flight nurses who hold several annual visas for India, China, and other nations.
We also offer air ambulance services using our state-of-the-art aircraft and can arrange commercial stretcher medical flight services as well. We are a worldwide medical air service provider, offering services on our dedicated fleet of specialized aircraft as well as commercial airlines, from the United States to the United Kingdom, from the Canada to the Caribbean to Asia and beyond.
Medical Air Service Costs
Every medical air service flight is individually quoted, and costs depend on a number of factors, but we will work hard to find the most efficient and cost-effective solution for your needs. Our dedicated Medical Air Service Specialists will work with you and your specific situation to coordinate connecting or transfer flights and generate a flight quote that is as competitive as possible.
Air Ambulance Worldwide has representatives available 24/7, 7 days a week. Call today for your custom Medical Air Service quote.