Air Ambulance Flights Available for Patients and Case Managers Worldwide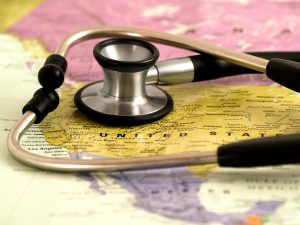 Air Ambulance Worldwide truly serves the world with air ambulance flights for patients who require special medical attention. We have flown missions to and from every corner of the globe and we are available in as little as two hours in certain cases. No matter what time of day or night you need us, we have a flight coordinator available to answer your call.
Our air ambulance flights take the stress out of medical transportation. It always starts with your personal flight coordinator, who will handle every detail of the trip from start to finish. Other reasons to rest easy when you turn to Air Ambulance Worldwide include:
An unblemished safety record, which earned us an ARGUS Gold safety rating
Air ambulance pilots who are all seasoned professionals with thousands of hours of recorded flight time
State-of-the-art aircraft that are fully-equipped for medical transfer, including Lear jets, Gulfstream GIII, and our flagship aircraft, the Piaggio P180
A professional medical team with extensive ICU/CCU experience, including neonatal and pediatric care specialists
In addition, the Air Ambulance Worldwide staff includes an insurance specialist who can help you navigate the claims process to ensure that you receive timely reimbursements from your private insurance company.
When you or someone you love takes air ambulance flights with Air Ambulance Worldwide, you can always rest easy knowing that the best possible care will be provided by our skilled medical personnel and that you will arrive at your destination rested and as comfortable as possible. That's because we faithfully adhere to only the most stringent medical protocols and have exceptional safety records, which has earned us an EURAMI accreditation.
If you would like to learn more about our air ambulance flights, please call 727-781-1198 or e-mail us today. We proudly serve patients from Canada to the Caribbean, United States to the United Kingdom, and other destinations worldwide.