Critical Care Air Transport from Air Ambulance Worldwide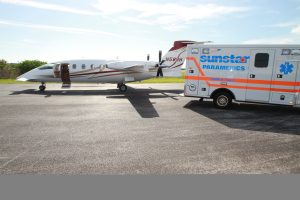 Critical care air transport requires efficiency, compassion, and a willingness to be there when needed – no matter what time of day or night, no matter where in the world the patient might be. The medical transportation team from Air Ambulance Worldwide embodies all of those qualities and more when it comes to serving our clients. Our goal is to help patients with special medical needs get where they need to be as comfortably and safely as possible. To that end, we have assembled a world class team of flight coordinators, medical personnel, pilots, and insurance specialists who will take all the stress out of a long-distance medical air transport.
Critical care air transport also requires medical expertise and experience working with patients for whom travel is a burden and a potential risk. All of our medical staff members have extensive ICU/CCU experience, including our paramedics, nurses, respiratory therapists, physicians, neonatal specialists, pediatric specialists, and more. Our pilots are extremely experienced, and we have earned an ARGUS Gold safety rating as well as EURAMI accreditation, which is only given to mobile air service providers that comply with stringent medical protocols and have exceptional safety records.
When critical care air transport is necessary, the patient will most likely require our air ambulance bed to bed service. A flight coordinator will be assigned exclusively to your case, and he or she will handle every detail of the journey. The flight coordinator arranges:
A smooth transfer from the departure facility to the destination facility, including obtaining a medical report, providing medical reports to the receiving facility and continually updating and coordinating with the receiving facility throughout the transfer process
Ground ambulance service in both the departure and arrival cities between the medical facilities and the airports
Assignment of an appropriate medical team for the flight, the composition of which will be tailored to the condition of the patient
Updates for family members and all other interested parties throughout the transfer
If you would like more information about our critical care air transport services, please call 727-781-1198 or e-mail us today. Your phone call will be answered 24 hours a day, 7 days a week. We proudly serve patients from the Canada to the Caribbean, United States to the United Kingdom, the European Union and other destinations worldwide.