Critical Air Transport & Medical Flights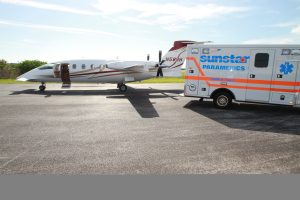 If you are in need of critical air transport for a loved one, Air Ambulance Worldwide provides specialty services tailored to each patient's specific medical condition. For patients who require expert medical care during critical air transport, we have assembled a world class team of flight coordinators, medical personnel, pilots, and insurance specialists who will take all the stress out of your flight. We are available 24 hours a day, seven days a week.
Our aircraft can be outfitted to functionally be a flying ICU, complete with ICU-level staff. These critical care medical flights allow for people with extensive medical needs to be transported safely and effectively.
Critical care air transport requires medical expertise and experience working with patients for whom travel is a potential risk. All of our medical staff members have extensive ICU/CCU experience, our pilots are extremely experienced, and we have earned an ARGUS Gold safety rating as well as EURAMI accreditation, which is only given to mobile air service providers that comply with stringent medical protocols and have exceptional safety records.
Why Use Air Ambulance Worldwide for a Critical Air Transport Flight?
When critical care air transport is necessary, the patient will most likely require our air ambulance bed to bed service. A flight coordinator will be assigned exclusively to your case and will handle every detail of the journey. The flight coordinator arranges:
A smooth transfer from the departure facility to the destination facility, including obtaining a medical report, providing medical reports to the receiving facility and continually updating and coordinating with the receiving facility throughout the transfer process
Ground ambulance service in both the departure and arrival cities between the medical facilities and the airports
Assignment of an appropriate medical team for the flight, the composition of which will be tailored to the condition of the patient
Updates for family members and all other interested parties throughout the transfer
ICU Medical Flights, with On-Board Medical Experts
Transporting a patient that is receiving care in an Intensive Care Unit via air ambulance or medical flight requires the highest level of care. Air Ambulance Worldwide is a mobile intensive care provider with the expertise and experience to provide almost any level of care on a medical flight, anywhere in the world. If you need to move a loved one from one ICU location to another anywhere across the globe, we're here to help.
Our team of friendly, knowledgeable flight coordinators are standing by 24/7, ready to plan and oversee every detail of a patient's medical transfer, including ground transportation in the departure and arrival cities, private aircraft transportation, and a personalized medical team. Our dedicated, full-time team of medical experts includes physicians, respiratory therapists, paramedics, and nurses who have decades of experience and are trained handle the most advanced levels of medical care during transport. All members of our medical team have at least five years of ICU or ER experience, and we can staff and equip your flight to accommodate almost any medical condition.
Specialized Care for Pediatric ICU Medical Flights
Transporting a pediatric ICU patient requires a critical level of care. No detail is too small and no precaution is too great when your little loved one needs to be moved. Air Ambulance Worldwide is uniquely qualified to take every step necessary to ensure that a pediatric ICU patient's specific medical needs are met in order to provide safe and expedient transport from one ICU medical facility to another. Because we tailor the needs of each patient specifically for every flight, we have a team of pediatric intensive care specialists standing by to attend to the critical care needs of your little patient, and our flight coordinators and ready to ensure that every medical protocol is strictly adhered to and every aspect of the process is meticulously monitored.
COVID 19 Critical Care Air Transportation Services
All Air Ambulance Worldwide's aircraft are meticulously maintained, fully equipped and thoroughly sanitized with SaniSwiss machines after every flight, Our specialized aircraft feature state-of-the-art infection control technology, including Peke Safety MedPod isolation capsules that are also used by the United States military and the U.S. Department of Health and Human Services to ensure a sanitary care environment while treating highly contagious patients.
Critical Air Transport Medical Flight Cost
Each Critical Air Transport Medical Flight is individually quoted, and costs depend on a number of factors. These factors can include the level of care the patient needs, the distance to be traveled, the current location of the airplanes and more. Our dedicated Critical Air Transport Medical Flight Specialists will work with you and your specific situation to generate a flight quote that is as competitive as possible.
Air Ambulance Worldwide has representatives available 24/7, 7 days a week. Call today for your custom Critical Air Transport Medical Flight quote.