Medical Flights Worldwide
LONG DISTANCE MEDICAL TRANSPORTATION FROM ANYWHERE ON THE GLOBE
Air Ambulance Worldwide is a leading, full-service mobile intensive care provider that offers world-class long distance medical transportation services &. medical flights to those in need of medical attention while traveling.
As a pioneer in the air ambulance industry, we have made it our mission to set the standard for quality care as well as safe and comfortable medical flights, earning us EURAMI accreditation as well as a Gold rating from ARGUS.
To ensure safety and efficiency on your flight, we will:
• Manage all logistics of the trip, making it as smooth and stress-free as possible
• Work relentlessly to achieve any insurance coverage reimbursement available
• Employ extensively trained medical staff with years of ICU/CCU experience as well as seasoned pilots
• Have neonatal, pediatric and geriatric specialists on staff
• Provide one point-of-contract throughout your entire travel process
We also offer numerous specialized medical flight services.
TYPES OF MEDICAL FLIGHTS
International MedEvac Flights
When travelers are seriously injured or become ill, Air Ambulance Worldwide specializes in coordinating international medical evacuation flights. Our team can coordinate evacuations from remote locations – or major urban areas – and get your loved one home fast.
Domestic Air Ambulances
A typical air ambulance is focused on transporting a patient from one medical facility to another a ways away. This can be so that the patient can be nearer to a higher level of care, or a more long-term care option. These also happen when a patient wants to be nearer to family or caregivers.
Critical Care ICU Medical Flights
Air Ambulance Worldwide also has the capacity to service ICU-level care while in the air. These medical flights take extensive coordination – but our team is up to the task, having completed thousands successfully.
Worldwide Medical Flights
What happens if you get sick, are in an accident or have some other medical emergency while traveling in Mexico? Air Ambulance Worldwide will coordinate your entire flight, staff it with the appropriate medical professionals and get you quickly and safely back on home soil.
Whether the U.S. or Canada is your permanent home, you may travel seasonally between the two or have loved ones in either place. If you or someone else has a compromised medical condition and needs to be moved to or from Canada, Air Ambulance Worldwide provides flights professionally staffed with whatever level of medical care is required.
What happens if you are seriously injured on an excursion? What if the local health facilities aren't adequate to treat your injuries and you need extensive care? Air Ambulance Worldwide can get you to a U.S. medical facility close to home quickly and safely.
As beautiful and scenic as it is, the Caribbean may not be the place you want to be if you suddenly find yourself experiencing a serious medical emergency. We'll send medical professionals who can help get you stabilized and on your way back to a fully staffed, specialized medical facility in the States.
If you're working or traveling in Europe and need to get back to the U.S. because of a serious illness or medical emergency, Air Ambulance Worldwide has specially equipped aircraft staffed with medical professionals to keep you stable and comfortable on your transatlantic trip.
If you need to get back to the US or Europe, Air Ambulance Worldwide offers medical flights to and from almost anywhere in Asia.
For more information on any of the medical transportation services we provide to and from anywhere in the world, call us at 877-922-9675 or 727-781-1198 today.
Commercial Medical Flight Service for Patients Around the World
When arranging a medical flight for a loved one in a compromised medical condition, consider the commercial stretcher service from Air Ambulance Worldwide. While this service is only allowed in limited circumstances on international flights by a small number of airlines, it can be appropriate for certain patients. It involves retrofitting a standard commercial plane with a stretcher, allowing a patient with serious medical needs to take a commercial flight to another destination. This service can be more cost-effective than a bed-to-bed private air ambulance service.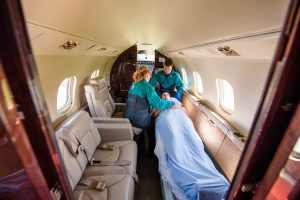 When Air Ambulance Worldwide arranges your commercial stretcher medical flight, you'll be spared the stresses of travel coordination and the complex logistics that come with this type of transfer.   Through our commercial stretcher service, we'll provide the patient with:
Obtaining required airline medical clearance
Booking of stretcher and flight coordination for any attending family members
A highly trained and experienced medical escort that will be by their side throughout the trip, including all necessary equipment and supplies.
A privacy curtain to surround the stretcher.
Assistance finding a receiving facility at his or her final destination, if needed, and coordinating with the attending facility.
Ground transportation to and from the airports.
Coordinate the entire transfer and update the family as it progresses.
Medical Flight Details
Prior to all of our medical air flights, we always obtain a full medical report on the patient to ensure that we formulate the proper medical plan for their specific needs. As much as possible, we also work with insurance providers to obtain patient reimbursements for medical flights.
In addition to these accommodations, we always keep our flights as sanitary as possible. Before every patient flight, we disinfect our cabins top to bottom.
How Much Does a Medical Flight Cost?
Most medical flights are private jet flights, so their costs are typically thousands of dollars and commensurate with the costs of private jets. There are times where travel insurance or medical insurance covers most or all of the cost of a medical flight, and there are also times people choose to pay out of pocket.
Because each flight is unique, with distances travelled and level of care needed, each medical flight is individually quoted based on the needs of the patient. Generally speaking, one friend or family member can accompany the patient at no additional charge on the medical flight.
Call our team 24/7 to get a quote for your medical flight needs today.