Commercial Medical Flight Service for Patients Around the World
When arranging a medical flight for a loved one in a compromised medical condition, consider the commercial stretcher service from Air Ambulance Worldwide. While this service is only allowed in limited circumstances on international flights by a small number of airlines, it can be appropriate for certain patients. It involves retrofitting a standard commercial plane with a stretcher, allowing a patient with serious medical needs to take a commercial flight to another destination. This service can be more cost-effective than a bed-to-bed private air ambulance service.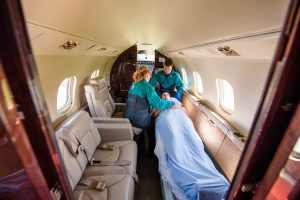 When Air Ambulance Worldwide arranges your commercial stretcher medical flight, you'll be spared the stresses of travel coordination and the complex logistics that come with this type of transfer.   Through our commercial stretcher service, we'll provide the patient with:
Obtaining required airline medical clearance
Booking of stretcher and flight coordination for any attending family members
A highly trained and experienced nurse that will be by their side throughout the trip, including all necessary equipment and supplies.
A privacy curtain to surround the stretcher.
Assistance finding a receiving facility at his or her final destination, if needed, and coordinating with the attending facility.
Ground transportation to and from the airports.
Coordinate the entire transfer and update the family as it progresses.
Prior to all of our medical air flights, we always obtain a full medical report on the patient to ensure that we formulate the proper medical plan for their specific needs.
In addition to these accommodations, we always keep our flights as sanitary as possible. Before every patient flight, we disinfect our cabins top to bottom with Saniswiss sanitation machines.
To learn more about arranging a medical flight through our commercial airline stretcher service, please contact Air Ambulance today. Due to the complexities of this medical air service, it typically takes between 5-7 business days to arrange. Our medical air transportation services also include air ambulance transportation and medical escort services.