Medevac Services for Patients Traveling to and from Anywhere in the World
Air Ambulance Worldwide is proud to provide superior medevac services around the globe. As a leading air ambulance intensive care provider, our flawless safety record and adherence to the most stringent medical protocol have earned us a number of prestigious recognitions, including an Argus Gold rating and EURAMI accreditation. We have a team of dedicated flight coordinators who will work with you to determine the best option to suit your medevac needs.
THE DEFINITIVE SOLUTION FOR YOUR MEDICAL TRANSPORTATION & MEDEVAC NEEDS
Air Ambulance Worldwide provides several different air ambulance and medical flight services to suit various medical transportation needs and travel restrictions throughout the world. From medevac to long distance medical transport to medical escorts to providing commercial stretcher equipment, we are a leading, full-service mobile care provider that offers world-class transportation services to those in need of medical attention while traveling.
Some of the advantages Air Ambulance Worldwide for medical transportation include:
• Medical personnel with a minimum of five years of ICU/ER experience, and extensively trained specialists who are on staff to ensure experienced care for any medical condition
• Full-time, seasoned pilots
• A team that will handle the logistics of your trip from start to finish and provide one point-of-contact for the entire process
• A team of dedicated insurance specialists who will work diligently to obtain any insurance coverage available
• Health specialists, such as neonatal professionals, pediatricians, and geriatricians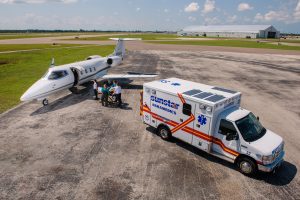 LONG DISTANCE MEDICAL TRANSPORT
For patients in medically compromised conditions who require a long distance medical transport, Air Ambulance Worldwide offers the definitive solution. Our team of empathetic professionals will ensure that you, or a loved one, is transported quickly and safely while removing the stress of trying to manage logistics and the insurance process, and our team of experienced flight coordinators will work diligently to help find the most cost effective solution to your needs.
For more information on any of the medical transportation services we provide to and from anywhere in the world, call us at 877-922-9675 or 727-781-1198 today.