Medical Flights to and from South America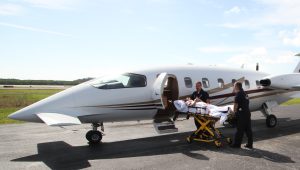 If you need medical transportation for yourself or a loved one, Air Ambulance Worldwide provides specialized services that cater to almost any patient's medical condition. Whether the patient has been injured or fallen ill, is relocating to be closer to family for support, or would simply like the peace of mind that a medical companion can provide on a flight to or from South America, we are here to help 24 hours a day, seven days a week.
Our team includes seasoned, fulltime pilots and skilled medical professionals (including physicians) who possess ER and/or ICU experience. The aircraft in our fleet are specially equipped to function as flying intensive care units and are maintained in accordance with the most stringent safety standards; we are among a select few medical flight providers to hold a gold rating with ARGUS and EURAMI certification, and our safety record is spotless.
Air Ambulance Anywhere in South America
Air Ambulance Worldwide provides air ambulance and medical flight services to and from South America or almost anywhere else around the globe. With a fleet of private jets, our medical flights can originate from or go to both rural and urban areas using smaller, more convenient airfields than large, international airports We can coordinate a bed-to-bed transfer from hospital to hospital, or from a hospital to a rehabilitation facility. Our professional and genuinely compassionate personnel include:
Fulltime, experienced pilots with over 2,500 hours flown and spotless safety records
Flight coordinators who work around the clock, 24 hours a day, to manage all the arrangements
A medical team, all of whom have experience in CCU, ICU, or other emergency healthcare
Insurance experts who work tirelessly to process your insurance claim, so you receive proper coverage
Health specialists, such as neonatal professionals, pediatricians, and geriatricians
Air Ambulance Worldwide also has specialized, dedicated medical personnel who can provide medical escort services on commercial flights.
Medical Flights Colombia, Venezuela, Guyana, Suriname, and French Guiana
When you or a loved one need convenient air ambulance services in the northern part of South America, Air Ambulance Worldwide can assist with the arrangements. With numerous options for private planes, commercial medical escorts, or commercial stretcher transfers, we can work with you to find the air ambulance service that provides the right level of care and fits your budget.
Medical flights Central South America
Air Ambulance Worldwide also specializes in medical flights & medical evacuations to or from anywhere in Ecuador, Peru, Brazil, Paraguay and Bolivia. Our private jets can fly in and out of more convenient or more remote airports, allowing for more convenient transfers for you or a loved one.
Our private medical jets can also transfer from South America to Europe, Asia, North America, or anywhere else in the world.
Medical transfers Southern South America
Throughout Chile, Argentina, Uruguay, and the Falkland Islands, Air Ambulance Worldwide provides medical flight services and other medical transfers by air. We service all of South America and worldwide, so you or your loved one can transfer to a different care facility quickly and safely.
Our commercial medical escort services can assist you or a loved one on a commercial flight, helping save money while still receiving the care needed. Or, if a higher level of care is needed, our private air ambulance jets are staffed with dedicated, trained medical personnel to ensure a safe transfer.
Find out more about Patagonia Medical Flights.
South American medical flight cost
Each medical flight to or from South America is individually quoted and depends on several factors. These factors can include the distance to be traveled, the level of care the patient needs, the current location of the airplanes and more.
Depending on the patient's condition and needs, our team will work to evaluate our commercial medical escort services to determine if this avenue may cost less or make more sense than a chartered jet. Our dedicated South American Medical Flight Specialists will work with you and your specific situation to generate a flight quote that is as competitive as possible.
Our representatives are available 24/7. Call today for your custom South American medical flight quote.