A Safe Air Travel Option for Non-COVID Patients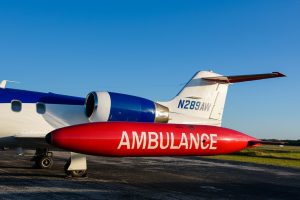 Anxiety is on the rise as the coronavirus pandemic impacts daily life in countries around the globe. However, for sick or immunocompromised individuals who need to travel by plane, anxiety is especially high. Sitting in close quarters with other flyers on a commercial airplane is an easy way to become sicker or spread illnesses to others. Not to mention, finding a flight—particularly one that can comfortably and safely accommodate passengers with special medical needs—can be difficult these days.
Thankfully, Air Ambulance Worldwide is here to help. While we are fully equipped to safely transport COVID-19 patients, our team is still providing the same world-class care to patients with other medical conditions or who are immunocompromised. Here's how we're doing it.
Sanitary Medical Air Transportation
Air Ambulance Worldwide's medical aircrafts are thoroughly cleansed and disinfected after every flight using surface and air sanitization technologies from SaniSwiss—a leading provider of professional-grade sanitization products for healthcare facilities around the world. And, when transporting patients with COVID-19 or other highly contagious illnesses, our team utilizes state-of-the-art Peke Safety MedPods, or encapsulated beds, that feature the latest breakthroughs in infection control technology to ensure the safety of our medical professionals and future patients. These beds are also utilized by the United States military and the U.S. Department of Health and Human Services.
Contact Us Today
You can rely on Air Ambulance Worldwide for safe and sanitary medical air transportation in these uniquely challenging times. Whether you or a loved one requires a non-emergency flight to another healthcare facility or an air ambulance, we are equipped with the expertise and technology to help. To find answers to your questions or to schedule a medical flight, contact our flight coordinators today. Our team is available 24/7 to assist you.