Private Air Travel Options for Immunocompromised Passengers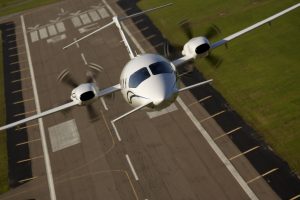 If you or a loved one is immunocompromised or has special medical needs, you know that commercial air travel can be a particularly stressful experience, especially during these unprecedented times. That's why Air Ambulance Worldwide's expert pilots and seasoned medical professionals are providing safe and convenient private air travel options to high-risk individuals during the COVID-19 pandemic. As a fully equipped medical air transport service, we carry passengers with a wide array of medical needs to the places they need to be, whether that's to a hospital, an assisted living facility, or home.
What We're Doing to Keep Passengers Safe
When you turn to Air Ambulance Worldwide for private air travel, you can be assured of the following:
Sanitary travel conditions – We thoroughly clean and sanitize our aircrafts top to bottom after every flight using medical-grade and eco-friendly SaniSwiss surface cleaners and airborne sanitizers. All COVID-19-positive patients are safely transported in Peke Safety MedPods that are equipped with the latest advances in infection control technology.
World-class medical expertise – Our full-time medical team includes physicians, paramedics, respiratory therapists, and nurses who possess at least five years of clinical experience and can assist patients of all ages.
Coordinated care – Our team coordinates all aspects of private air travel and provides bedside-to-bedside service, including gathering all medical reports and arranging ground transportation.
Arrange Private Air Travel Today
Contact Air Ambulance Worldwide today if you would like to schedule safe and sanitary private air travel for yourself or a loved one. Our flight coordinators are standing by to assist you and can answer any questions you may have.