What Is an Air Ambulance?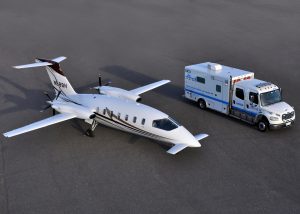 An air ambulance is needed when a person who requires medical care must be transported over a long distance that can't be covered by a ground ambulance. The patient is usually being transferred from one medical facility to another and requires medical attention throughout the flight.
Air Ambulance Worldwide provides safe, efficient air ambulance services via our fleet of private, specially configured aircraft that can reach patients in every corner of the world. These aircraft are equipped with medical equipment and staffed with experienced medical personnel who can monitor the patient's condition, providing a high level of care during the flight.
Do air ambulances provide ICU-level support?
Air ambulances and specially-equipped medical jets have a wide variety of levels of support. Air Ambulance Worldwide has multiple jets than can be outfitted with ventilators, ECMO machines, and more to provide ICU-level support while in the air. In addition, our trained medical professionals have ER, CCU or ICU experience in addition to special in-flight training.
Can air ambulances fly people internationally?
International MedEvac services are one of the core functions of air ambulances. When someone has become ill or injured far from home, air ambulances are one of the fastest and safest ways to get them home safely.
Air Ambulance Worldwide can provide medevac and air ambulance services to or from almost anywhere in the world.
Are air ambulances covered by insurance?
Depending on the insurance the patient has, air ambulances are regularly covered by insurance. Air Ambulance Worldwide has a team of insurance specialists who can help determine if a medical flight is covered by insurance.
Is an air ambulance the same thing as a medical flight?
Generally yes, air ambulances and medical flights are synonyms for each other.