What Is an Air Ambulance?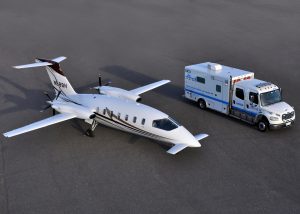 An air ambulance is an aircraft that has been outfitted with medical equipment and is designed to transport sick or injured people who need to travel long distances to receive medical transportation. These types of aircrafts are also staffed with medical professionals who will monitor the patient and provide them with whatever type of medical assistance they need until they reach their final destination.
When Would a Medical Flight Be Necessary?
There are a number of reasons that a person may need to take an air ambulance. For instance, a patient might need to travel to a hospital that specializes in a certain treatment that they need. Another example of a situation that requires an air ambulance is medical repatriation. This is when somebody who has left the country gets injured, and will need to fly home to receive medical treatment. However, they cannot take a regular commercial flight due to the severity of their injury, so they take an air ambulance instead.
Premier Air Ambulance Services Available From the Professionals at Air Ambulance Worldwide
When you or a loved one is need of air ambulance services, turn to the professionals at Air Ambulance Worldwide. We offer a fleet of private jets that are all equipped with the same high-level medical equipment that you would find inside of an ICU. What's more, we also employ a staff of medical professionals who have years of experience working in an ICU, allowing you to feel confident that you will be in good hands throughout your entire flight.
Plus, we even offer bed-to-bed services, meaning that we will pick you up from wherever you are, drive you to your flight, and after we land, we will take you to your final destination and make sure that you're in good hands before we leave.
To learn more about the air ambulance services we can provide to patients traveling to or from almost anywhere in the world (besides North Korea) contact Air Ambulance Worldwide today.