What Does Medevac Stand For?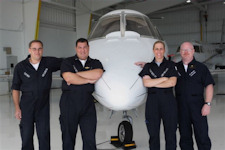 Have you heard the term medevac used before but aren't sure what it means? Well, medevac is short for medical evacuation, and it refers to the evacuation of persons (usually by air transportation) to a place where they can receive medical care.
What is a Medevac Flight?
A medical flight is a flight that a sick or injured person takes when they require medical care during transportation to or from a medical facility. The aircrafts used for these types of flights are equipped with medical equipment to monitor or treat the patient during the flight. They are also staffed with medical professionals who will monitor the patient and provide them with care until they reach their final destination.
Air Ambulance Worldwide Provides Medical Transportation to or from Almost Anywhere in the World
If you or a loved one needs to take a medical flight anywhere in the world besides North Korea, there is no better company to work with than Air Ambulance Worldwide. That's because, since 2004, we have dedicated ourselves to providing our patients with high-quality care so that they can get where they need to go as safely and efficiently as possible. When you decide to work with us, you can feel confident in your decision because we:
Have a perfect safety record – We have never had any incidents or accidents occur on any of our medical flights.
Have an experienced team – Each member of our medical staff has a minimum of five years of experience working in the ICU, and our pilots are both skilled and experienced, so you can rest assured you or your loved one will be in good hands throughout your flight.
Have top-of-the-line medical equipment – Our planes are equipped with the same medical equipment you would find in an ICU, so you can be sure that we have the equipment necessary to ensure your or your loved one's safety throughout the duration of the flight.
For more information about the medevac flight services we offer to patients all across the globe, contact Air Ambulance Worldwide today.