What is a MedEvac and When is it Needed?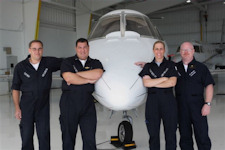 Have you heard the term medevac used before but aren't sure what it means? Well, medevac is short for medical evacuation, and it refers to the evacuation of persons (usually by air transportation) to a place where they can receive medical care.
MedEvacs typically are needed when there's an accident in a relatively remote place domestically; when someone is outside their home country; or when someone becomes acutely ill and needs to get home for treatment.
What is a MedEvac Flight?
A medical flight is a flight that a sick or injured person takes when they require medical care during transportation to or from a medical facility. The aircrafts used for these types of flights are equipped with medical professionals who have the best in portable medical equipment to monitor and treat the patient during the flight.
How fast can a MedEvac flight be arranged?
MedEvac flights can be arranged very quickly, and as private jet flights, are generally able to fly directly to the destination with minimal interruptions. If it's an extremely long distance, refueling stops may be required.
If you need an urgent MedEvac flight, call Air Ambulance Worldwide now and our medical flight coordinators can assist you 24/7.
Where are MedEvac flights available?
MedEvac flights from Air Ambulance Worldwide are available to or from almost anywhere in the world. Air Ambulance Worldwide works with local medical transportation services to transport the patient from the hospital to the airport. MedEvac flights are available within countries, or cross-continents if needed.
How much does a MedEvac flight cost?
MedEvac flight costs depend on numerous factors, including how far the patient needs to travel for care and the level of care required, among other factors. Air Ambulance Worldwide has medical flight coordinators available 24/7 to help you understand if a MedEvac is needed, and if so, what the costs and timing will look like.