How to Get Emergency Transportation if You're COVID-19 Positive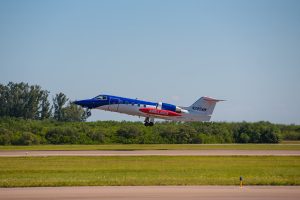 Generally speaking, individuals who have tested positive for COVID-19 and need to go to a healthcare facility should call their medical provider (or 911, in the event of an emergency) and inform them of their condition. An ambulance may be sent with professionals who are equipped to safely transport coronavirus patients without spreading disease. It is also important for people to inform healthcare workers if they are displaying potential symptoms of COVID-19, which may include shortness of breath, fever, cough, fatigue, and gastrointestinal issues.
COVID-19 Air Ambulance Services
If a COVID-19-positive individual needs to return home from travel or go to a healthcare facility that is several hours away, however, relying on a traditional ambulance may be too inconvenient—or in the case of overseas travel—impossible. That's where Air Ambulance Worldwide can help.
As a premier medical flight provider, Air Ambulance Worldwide is equipped with the medical technology and expertise to safely transport coronavirus patients—including those in critical condition—between North America and countries around the globe. This means we can safely return tourists home or transfer patients to healthcare facilities across the country or across the world, and do so while adhering to the most stringent of sanitization and infection control standards.
We're Ready to Help
If you have COVID-19 or need to arrange emergency air transportation for someone who does, call Air Ambulance Worldwide today. Our flight coordinators are available 24/7 to ensure you can receive the assistance you need, right when you need it. We'll also be happy to answer any questions you may have about our aircrafts, medical team, or sanitization practices.