Why Choose Us for COVID-19 Air Transport?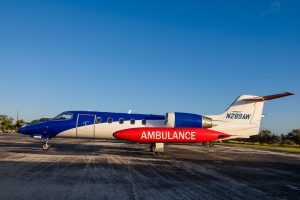 As the coronavirus pandemic evolves, the demand for COVID-19 air transport continues to grow. In the event that you or a loved one is COVID-19 positive and requires air transportation—whether to a medical facility or back home—you can rely on the seasoned professionals at Air Ambulance Worldwide. Here's why:
Superior sanitization protocols – After every flight, our aircrafts are cleaned from top to bottom with medical-grade and eco-friendly air and surface sanitization technologies from SaniSwiss.
Advanced infection control technology – We use Peke Safety MedPods to safely care for and transport patients. These encapsulated beds are also relied upon by the U.S. military and the U.S. Department of Health and Human Services.
Bedside-to-bedside service – We understand that our patients and their loved ones are in stressful situations, which is why we go the extra mile to gather all medical reports, arrange ground transportation before and after the flight, and address other aspects of COVID-19 air transport for our patients.
Outstanding medical expertise – Our medical team includes physicians, nurses, respiratory therapists, and paramedics who possess at least five years of ER/ICU experience and are able to provide critical care to patients of all ages.
A flawless safety record – Our full-time pilots have at least 15 years in the aviation industry and our crews adhere to the most stringent of safety measures. Our commitment to safety is evidenced by our ARGUS Gold rating and EURAMI accreditation.
We're Ready to Assist You
For COVID-19 air transport service, turn to Air Ambulance Worldwide. Our flight coordinators are available 24/7/365 to answer your questions and arrange the care you need.