Who Needs an Air Ambulance?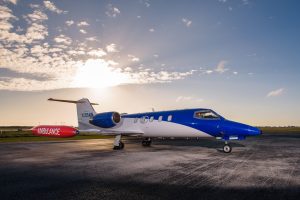 You may have heard of air ambulances before, but might not know very much about them. Your knowledge is probably limited to the very basics, such as the fact that an air ambulance is essentially a flying ambulance. However, you might find yourself asking "who needs an air ambulance?" Well, people need to travel via air ambulance for a number of reasons. For example, if a person went on a vacation to another country and had an accident that resulted in a severe injury. That person will likely want to—or, for insurance reasons, may need to—travel back to their home country to receive treatment. However, due to their condition they can't travel on a commercial flight, in which case an air ambulance is a perfect solution.
Similarly, if someone suffered a brain injury and needed to travel a long distance to receive specialized medical attention, he or she would benefit from taking an air ambulance because they could be constantly monitored and looked after by medical professionals during the trip.
When You Need an Air Ambulance – Air Ambulance Worldwide is the Company to Call
If you or a loved one are ever in need of air ambulance transport, turn to the professionals at Air Ambulance Worldwide. We have a fleet of jets that are equipped with top-of-the-line medical equipment, and they will be staffed with experienced medical professionals, allowing you to feel confident that you'll be well taken care of during your flight. Additionally, we have flight coordinators standing by 24/7 who can answer any questions that you have and help arrange your entire flight for you, allowing you to stay focused on what truly matters—your health or the health of your loved ones.
For more information about the services we are able to provide to patients across the globe, contact Air Ambulance Worldwide today.