What is an Air Ambulance Used for?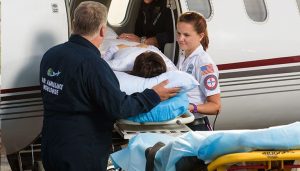 An air ambulance is used when a person needs to be transported, usually to or from a hospital, while receiving attentive and caring medical attention throughout the flight. These aircrafts are equipped with medical equipment and with an experienced medical staff who can monitor them and provide them with a high level of care during their flight to ensure that they reach their final destination safely.
Exceptional Air Ambulance Services Available to Patients Traveling to Almost Anywhere in the World
When you or a loved one needs to take an air ambulance flight, Air Ambulance Worldwide is the company to call. That's because, since 2004, we have been helping people across the globe by providing them with high-quality medical care so they can get where they need to go as safely as possible. When you decide to work with us, you can feel good about your decision because we:
Provide bed-to-bed services, meaning that we will pick you up from wherever you are, provide ground transportation to your flight, and after we land, will drive you to your final location
Have a perfect safety record and have never had any accidents happen on any of our flights
Outfit our planes with the same equipment you would find in an ICU
Make sure that all of our medical staff members have a minimum of 5 years of experience in an ICU
Train all of our flight members in flight physiology, so you can be sure that they know how the body, as well as different medications, react in different altitudes
For more information about the air ambulance services we are able to provide to patients around the world, contact Air Ambulance Worldwide today.