Long-Distance Medical Flight for You or a Family Member? We'll Take Care of Everything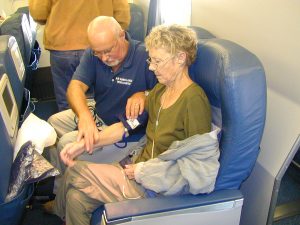 If you or an ailing loved one needs to fly long distance to get home or to a different facility for further or continuing treatment, there is enough on your mind already without having to deal with travel logistics. We at Air Ambulance Worldwide understand that and we want you to know that we are here to bear the burden for you.
When you allow us to handle every aspect of planning and coordinating a safe and efficient medical air transport, you are free to concern yourself with what is truly important – the health and well-being of your family member. In order to expedite the travel process and reduce the inherent stress, our experienced, knowledgeable staff is entirely at your disposal. You'll be ably served by:
A flight coordinator who can answer all of your questions and is assigned exclusively to your case to oversee the details before, during and after travel.
Seasoned professional pilots and air crews with thousands of hours of flight experience.
Accompanying medical personnel with extensive ICU/CCU experience.
Our team is here to make sure that you and your loved one receive the best possible care and attention during transport. At the same time, we never want patients or their family members to be needlessly burdened by the additional stress sometimes associated with travel, especially for those with special medical needs. Our comprehensive air ambulance service includes:
Bed-to-bed service – smooth transfer from pickup at the current facility to delivery at the receiving facility; this includes obtaining an up-to-date medical report, providing medical reports to and coordinating with the receiving facility.
Ground transportation – ambulance service in both the departure and arrival cities between the medical facilities and the aircraft.
Assignment of specialized medical personnel – a medical team with extensive ICU/CCU experience. The team's composition will be based on the medical needs of the patient and may include paramedics, nurses, respiratory therapists, physicians and other specialists as needed.
Communication with family members – regular updates will be provided throughout the transportation process, so relatives remain informed and at ease.
Here are a few other important ways Air Ambulance Worldwide will help to ease your burden:
Our staff includes an insurance specialist who will help you with potential billing issues and with collecting on reimbursements from your private insurance company.
Our perfect safety record has earned us an ARGUS Gold rating and the prestigious EURAMI accreditation, which recognizes mobile air service providers with exceptional medical protocols and aviation records worldwide.
We transfer patients anywhere in the world, from Canada to the United Kingdom, from the Caribbean to Australia and beyond.
We provide an all-inclusive, up-front estimate on our services so there are never any hidden or unexpected costs.
No matter when you need to set up medical air transport for yourself or a loved one, we are here to help. Please call 727-781-1198 or e-mail Air Ambulance Worldwide. We are available 7 days a week, 24 hours a day.