Medical Transport Services Offered by Air Ambulance Worldwide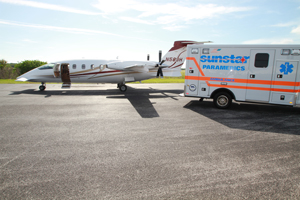 At Air Ambulance Worldwide, we specialize in medical transport services across the globe. Our highly trained team knows what it takes to get you, your loved one, or your patient where they need to be, when they need to be there. We offer several different types of services ranging from private medical transport in one of our state-of-the-art aircraft to medical transport services on commercial airliners for patients who have been cleared to fly.
One of our top priorities is to make scheduling air transportation as easy as possible for patients who require medical assistance. We understand that this process can be stressful, which is why we go to great lengths to handle the logistics. From the minute the patient is picked up until they reach their destination they will receive top flight care from our experienced medical staff. In fact, every healthcare professional that works with us has a minimum five years of ICU/CCU experience. We even have pediatric and neonatal professionals on staff, which allow us to accommodate patients of nearly all ages and health.
In addition to private medical transport services in one of our specially equipped aircraft, we also offer:
Medical escort services where one of our medical staff accompanies the patient on a commercial flight
Coordination of commercial travel for patients who require a stretcher
And other transport services for patients in need of medical assistance
To learn more about the many benefits to our medical transport services, contact us today. One of our operators is standing by 24 hours a day and in most cases we can have a medical transport flight scheduled within two to four hours. We have a sterling safety record and our pilots have thousands of hours of airtime, ensuring the patient will reach their destination safely. To learn more, contact us or call today at 877-922-9675 or 727-781-1198 to learn more.