Medical Flights Serving New York & the Surrounding Area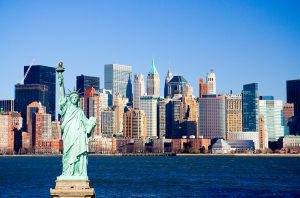 At Air Ambulance Worldwide, we offer medical flights in New York as well as the surrounding area. In fact, since we opened for business our organization has coordinated the medical transport of patients in just about every corner of the globe. Our staff is available 24/7 to take your call and will gladly explain the many advantages to the medical flights we offer. In many cases, we are able to begin organizing transportation in as little as two hours.
To help accommodate the needs of just about every patient who turns to us, we offer several different types of medical flights in New York, including both:
Private medical transport – This service is aboard one of our private flights, which is staffed by highly trained medical personnel who are extremely knowledgeable on the patient's medical history. Our pilots are also very experienced, with thousands of hours logged in air, which contributes to our unblemished safety record.
-AND-
Commercial medical escort – This service is intended for patients who are healthy enough to fly commercially but require assistance both in the airport and while in the air. One of our medical staff members will help the patient navigate ticketing and security, and provide any assistance required onboard to ensure that the patient has a smooth, comfortable, and safe flight.
Regardless of the service that you choose, you can be confident that the professional team at Air Ambulance Worldwide will work tirelessly to ensure that our medical flights are to your high standard. We know that when patients call us, they are trusting that our team will make a potentially stressful time as easy as possible.
If you are interested in learning about the specific advantages to the medical flights we offer in New York and across the globe, contact Air Ambulance today at 877-922-9675 or 727-781-1198. We'll be happy to answer your questions, explain the benefits to our services, and help you ensure the safe travels of your loved one, patient, or yourself.