The Assistance that a Medical Escort from Air Ambulance Worldwide Can Provide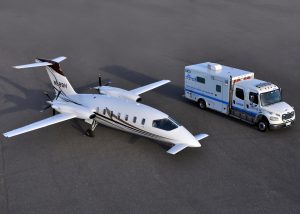 Hiring a medical escort from Air Ambulance Worldwide to help assist you or a loved one on an upcoming trip can give much needed peace of mind to you and your family. We are available 24/7 to provide you with the medical transportation services that you require and as our flight coordinators can explain, we have a variety of highly trained medical escort personnel standing by to ensure that our patients get from their departure city to their point of arrival safely and on time. If you have a health condition that requires the services of a medical escort, we can assist you.
Enlisting the help of a medical escort is all about peace of mind. Hopefully, the flight goes smoothly and the patient will need little more from the medical staff than some casual conversation. However, if an issue does arise or they need help with any personal or hygiene issues while airborne, it's a significant relief knowing you have a specialist with you. Additionally, our team helps make traveling easier before you even get on the plane. We'll greet the patient at their home, healthcare facility or other location, and make sure that they arrive to the airport on time. We can also work with the local airport to make accommodations for security checkpoints, which is a significant benefit for patients who have a wheelchair, oxygen tank, or other medical equipment. The patients under our care even get priority seating to make the boarding process quicker and easier.
The medical escort team also:
Features healthcare professionals who are fluent in many different languages, including English, Spanish, Dutch, Turkish, and more
Includes flight nurses who hold several annual visas, including to Russia, India, and more
Has experience accompanying patients to and from every continent on the globe with the exception of Antarctica
We also offer private medical transport for patients who have a serious injury or illness. These private flights are manned by highly trained and experienced pilots and feature a robust healthcare staff who each has a minimum of five years of intensive care experience.
To learn more about the medical escort staff that we employ at Air Ambulance Worldwide and for more information about our many services, contact us today by calling 877-922-9675 or 727-781-1198.