Medical Air Transportation to and from Anywhere in the World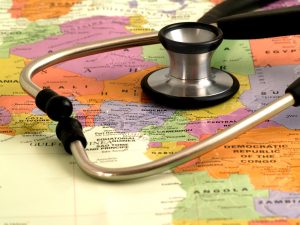 Air Ambulance Worldwide is proud to provide medical air transportation to and from anywhere in the world. As a leading mobile intensive care provider, we are dedicated to offering services that are focused on patient comfort, safety, and care. In fact, our flawless safety record and adherence to stringent medical protocol have earned us the prestigious EURAMI accreditation as well as a Gold star rating from ARGUS, so you can rest assured that you and your loved ones are in the best and most trusted hands.
When you turn to Air Ambulance Worldwide for your medical air transportation needs, we can address situations ranging from basic care to critical medical conditions. We do this by offering a variety of services, including:
Air ambulance flights – This is a seamless bedside-to-bedside medical air transportation service that accounts for every aspect of a patient's trip from start to finish, including ground transportation to and from the airport in the departure and arrival cities and at least two medical personnel who will accompany the patient throughout the journey.
Medical escorts – This service is also bedside-to-bedside but is for non-emergency patients who are taking a commercial flight. One of our trained nurses will accompany the patient in first class for the duration of the trip and provide any necessary medical care and equipment.
Commercial stretchers – If the patient is traveling on a commercial international flight and requires a stretcher or other medical equipment, we can coordinate with the airline and arrange to have the plane set up to accommodate the patient upon his or her arrival.
Whether you or a loved one is in need of emergency medical air transportation or would like to schedule a service in the future, we are here to assist you 24 hours a day, seven days a week. To learn more about the services we provide to and from anywhere in the world, contact Air Ambulance Worldwide today.