Long distance medical transport to virtually anywhere around the globe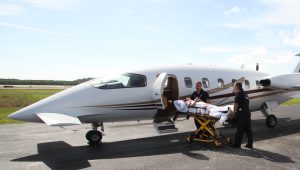 For patients in medically compromised conditions who require a long-distance medical transport, Air Ambulance Worldwide offers the definitive solution. Our team of experienced professionals will ensure that you, or a loved one, is transported quickly and safely while removing the stress of trying to manage the trip's logistics and insurance process.
Air Ambulance Worldwide provides a wide range of medical flight services to suit the medical needs and travel restrictions of the patients we serve throughout the world.
For patients who require emergency medical attention, our private air ambulances are specifically equipped and staffed to act as a personalized mobile ICU. For those in noncritical condition but who require medical support, we can arrange for a commercial flight to be fitted with a stretcher and the appropriate equipment. We also provide medical escorts on commercial flights for patients who are medically stable but may need assistance with medication administration or basic hygiene.
Why choose Air Ambulance Worldwide for long-distance medical transport?
In addition to our exceptional medical flight services and state-of-the-art aircraft, Air Ambulance Worldwide's medical staff is second to none. Our professional and genuinely compassionate personnel include:
Fulltime, experienced pilots with spotless safety records
Flight coordinators who work around the clock, 24 hours a day, to manage all the arrangements
A medical team, all of whom have a minimum of five years' experience in CCU, ICU, or other emergency healthcare
Insurance experts who work tirelessly to process your insurance claim, so you receive proper coverage
Health specialists, such as neonatal professionals, pediatricians, and geriatricians
Contact Air Ambulance Worldwide today for a custom medical flight services quote or to arrange a long-distance medical transport for you or a loved one.
Efficient and reliable long distance medical transport
We have experienced staff members who are equipped to assist you in virtually every matter pertaining to your long-distance medical transport service. All of our medical staff members have extensive ICU/CCU experience, our pilots are extremely experienced, and we have earned an ARGUS Gold safety rating as well as EURAMI accreditation, which is only given to mobile air service providers that comply with stringent medical protocols and have exceptional safety records. Our medical staff also includes members who are fluent in Spanish, French, German, Dutch, Turkish, Greek and other languages, and flight nurses who hold annual visas for India, China and Russia, among other nations.
Taking the stress out of long-distance medical transport
When long distance medical transport is necessary, we stand at the ready to assist you with every aspect of your flight. A flight coordinator will be assigned exclusively to your case and will handle every detail of the journey. The flight coordinator arranges:
A smooth transfer from the departure facility to the destination facility, including obtaining a medical report, providing medical reports to the receiving facility and continually updating and coordinating with the receiving facility throughout the transfer process
Ground transportation in both the departure and arrival cities between the medical facilities and the airports
Assignment of an appropriate medical team for the flight, the composition of which will be tailored to the condition of the patient
Updates for family members and all other interested parties throughout the transfer
Connecting medical flights
Air Ambulance Worldwide is networked with Strategic Partners across the globe, and we receive daily correspondence informing us of connecting flights that our partners have available. This provides Air Ambulance Worldwide with an excellent opportunity to save you money on your patient transfer by combining your needs with an existing flight. Quite frequently, we are able to connect with empty legs of these flights to reduce costs due to fewer miles flown.
Long-distance medical transport costs
Each long-distance medical transport flight is individually quoted, and costs depend on several factors. These factors can include the level of care the patient needs, the distance to be traveled, the current location of the airplanes and more. Our dedicated long-distance medical transport specialists will work with you and your specific situation to generate a flight quote that is as competitive as possible.
Air Ambulance Worldwide has representatives available 24/7, 7 days a week. Call today for your custom long-distance medical transport quote.