How Does Life Flight Insurance Work?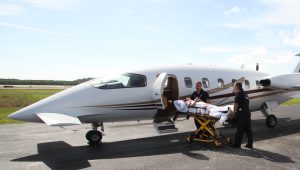 Medical flights are regularly covered by health insurance when medically necessary. At Air Ambulance Worldwide, we work with a number of health insurance providers to offer medical flights and air ambulances throughout the US and worldwide.
If you're in need of a medical flight and not sure if your insurance will cover you, contact our medical flight coordinators 24/7 so we can work with you to answer any questions you might have.
Does Air Ambulance Worldwide sell Medical Flight or Life Flight Insurance?
Air Ambulance Worldwide does not sell medical flight insurance. We work with almost all health insurance providers, travel insurance providers and others to determine if there is insurance coverage for our clients.
What happens with Life Flight Insurance if I'm abroad?
If you're abroad, some health insurance may not cover the costs to provide a private medical flight for you to get home. Travel insurance companies typically cover this cost.
If you are abroad and need a medical flight, don't hesitate to call the professionals at Air Ambulance Worldwide. Our medical flight coordinators are available 24/7 and can work with you to understand your options for getting yourself or a loved one home.
Does Life flight insurance cover flights for COVID-19 positive people?
It depends on the type of insurance you have. If you're not sure, give Air Ambulance Worldwide a call and we can work to determine what kind of COVID-19 medical flight coverage you have. Find the details for what to do if you're stuck abroad due to a positive COVID-19 test. (link to page)
Can I take a medical flight using private health insurance?
If you're wondering whether your private insurance will cover your medical flight for life saving treatment, Air Ambulance Worldwide is here to help. In addition to providing personalized, world-class medical air transportation services and a team of knowledgeable healthcare professionals, we will handle the logistics of your entire trip and manage your insurance claim through to the end.
One of the main factors that may decide whether you receive coverage is determining if the medical air transportation is "medically necessary." This means that the medical flight must align with accepted medical standards, be clinically appropriate (in terms of location, frequency, and duration), and must not be for the financial benefit of the patient, healthcare provider, or physician.
When it comes to verifying whether your private insurance will provide coverage for your life saving medical flight, our knowledgeable insurance specialists will:
Help to determine the likelihood of your benefit to be paid
Track, file, and manage your insurance claim until it is fully processed
Alleviate the stress of dealing with frustrating insurance companies and daunting paperwork
Air Ambulance Worldwide takes every measure to reduce costs for our clients, such as partnering with strategically located partners around the globe and utilizing those partners to take advantage of connecting flights. By directly working with some of the best qualified operators around the world, we can ensure a timely transfer and excellent medical care while saving you money since fewer miles are flown to reach you.