How to Book a Medical Flight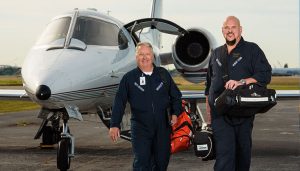 When you need to book a medical flight either for yourself or a loved one, it may seem like a daunting task because you're probably already stressed out and now have to worry about finding a flight that is capable of handling your travel. Luckily, the task is actually much easier than it seems at first glance. First, you'll want to do some research and find a company that has the medical staff, properly equipped plane, and safety record that makes you feel comfortable choosing them. Next, you just have to call them and they should have a flight coordinator standing by that will handle almost everything for you, allowing you to focus on your health or the health of your loved one.
Premier Medical Flight Services Available to or from Almost Anywhere in the World
Since 2004, Air Ambulance Worldwide has been providing medical flights to patients across the globe. We can help coordinate a medical flight for you or a loved one at minimal notice, and have a highly experienced team who will work tirelessly to ensure that you or your loved one gets to where they need to go as quickly and safely as possible. When you decide to work with us, you can feel confident in your decision because we:
Have a flawless safety record as evidenced by our ARGUS Gold rating
Only employ medical professionals who have at least 5 years of experience working in an ICU
Have multiple planes that are equipped with the same medical equipment you would find in an ICU
Provide bed-to-bed services, meaning that in addition to the flight itself, we will also provide ground transportation to the flight as well as from the flight to your final destination
For more information about the medical flight services we have available, contact Air Ambulance Worldwide today.