How to Become an Air Ambulance Paramedic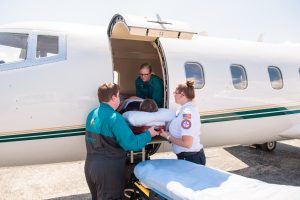 Being an air ambulance paramedic can be an interesting and satisfying job. Not only do you never know what type of situation you'll be dealing with on any given day, but you'll also have the opportunity to help people who truly need it. If this seems like a career you'd be interested in, you'll have to complete the following steps in order to become an air ambulance paramedic:
Become an emergency medical technician (EMT) – The first step in becoming an air ambulance paramedic is to become a licensed EMT.
Enter a paramedic training program – After you get your EMT certification, you'll need to enter a paramedic training program. These programs usually require you to have a certain number of years' experience as an EMT before they accept you into the program.
Complete air ambulance training – After you've become a paramedic, you can start air ambulance training. This is usually a 32-hour class over the span of four days, where you'll learn about flight safety, different types of aircrafts, and other important things to ensure your success as an air ambulance paramedic.
Find a job – After you've completed all of the aforementioned steps, you're ready to become an air ambulance paramedic, and it's time to start looking for a job.
Air Ambulance Worldwide –—The Company That Cares
Whether you're in need of air ambulance services or want to start a career as an air ambulance paramedic, there is no better company to turn to than Air Ambulance Worldwide. That's because we are dedicated to providing our patients with the highest level of care possible to ensure that they are safe and comfortable during their medical flight. And, we only hire the best medical professionals who will be able to handle any situation that arises.
To learn more about the services we provide or the careers we offer, contact Air Ambulance Worldwide today.