Air Ambulance Worldwide Offers Flight Assistance for Elderly Passengers
When elderly individuals need to take a flight to receive medical attention, or to visit or move in with family members, a great option for them is to turn to Air Ambulance Worldwide. We understand how stressful flying can be for elderly passengers, so we take extra precautions to make everything as convenient as possible and take care of all their needs.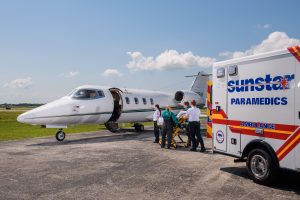 How Air Ambulance Worldwide Helps Elderly People Fly Across their Country or Across the World
There are a variety of reasons that you or your loved one can feel confident in the flight assistance we provide for elderly passengers, because we:
Can provide any level of support that an elderly passenger might need, from being a medical escort on a commercial flight to flying with them on one of our private aircraft.
Have private planes that are equipped with the same medical equipment as an ICU, so you can rest easy knowing that we will be prepared for any situation that may arise during the flight.
Provide bed-to-bed services, meaning that we will pick up the passenger from wherever they are, bring them to their flight, attend to their needs while onboard, and transport them to their final destination after we land.
Have a flawless flight record, meaning we have never had a single incident or accident occur on any of our flights.
Employ medical professionals with years working in an ICU. Plus, our crew members are certified in flight physiology, so they know how altitude changes can affect different medications and medical conditions.
Have seasoned pilots with an average of over 10,000 flight hours.
Will assign a flight coordinator to you who will help you every step of the way, and be there to answer any questions you may have throughout the entire process.
Board and de-plane at private airport facilities, avoiding the terminal.
What's the best way to help elderly people travel long distances?
Depending on their needs, the best way to help elderly people travel long distances is either through a private jet medical flight, or a medical escort on a commercial flight. In either situation, the elderly person has trained medical support throughout their travel.
If you're not sure which one fits you or your loved ones, call our experienced flight coordinators today! They're available 24/7 to help coordinate medical flights and medical escorts.
For more information about the flight assistance we can provide to elderly passengers, contact the experienced professionals at Air Ambulance Worldwide today.