Other Air Ambulances Can't Compare to Air Ambulance Worldwide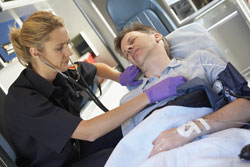 Other companies may call themselves air ambulances, but none offers the quality of service as that provided by Air Ambulance Worldwide. Our state-of-the-art equipment, seasoned pilots, and highly trained medical staff put us head and shoulders above our competitors, which is why we are the preferred choice for medical transportation services throughout the world.
Our air ambulances and other medical transportation services offer bed-to-bed care for patients who:
Became ill or injured on vacation and are unable to travel on a commercial flight
Must make an emergency flight to another city for life-saving surgery
Require non-emergency assistance, such as oxygen, wheelchair, or medication while traveling
Require special arrangements, such as a stretcher or other vital medical equipment, on an international flight
Our medical personal are assigned to each flight based on the patient's condition and needs. Every doctor, nurse, and other medical professional on our staff has a minimum of five years of ICU/CCU experience, far surpassing the experience of the personnel on other air ambulances. Our knowledgeable, caring coordinators will handle all aspects of planning the trip, including securing medical records, arranging transportation to and from the airport, and providing regular updates to loved ones throughout the transport process.
Additionally, Air Ambulance Worldwide's trustworthy service and clean safety record has earned us a full accreditation from the European Aeromedical Institute. Rather than wasting time with other air ambulances, call our professionals at 877-922-9675. We are available to you 24 hours a day, seven days a week.