Air Ambulance Options for Patients Traveling to or from San Salvador, El Salvador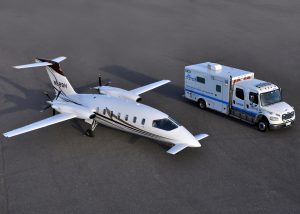 Air Ambulance Worldwide offers medical air travel to patients traveling to or from San Salvador, El Salvador. Whether you need a medevac on short notice, or you need to have a loved one transported on a medical flight, our team of seasoned pilots and medical professionals will get you where you need to go, anywhere in the world.
To arrange an air ambulance or other medical air transportation service for you, your loved one, or your patient, simply call our 24-hour dispatch and information center. One of our knowledgeable flight coordinators will discuss your options with you and help you select the ideal service for you. The air ambulance services we offer patients traveling to or from San Salvador include:
Private medical flights – We transport patients on private medical charters that are fully equipped according to the individual's unique needs. Our highly trained medical staff has a minimum of five years of ICU, CCU, or emergency medicine experience, and many hold different certifications, such as Advanced Trauma Life Support and Pediatric Advanced Life Support.
Medical escort services – If the patient is medically stable and well enough to travel on a commercial flight, we can arrange to have a medical professional accompany them from their starting location to their destination. Our escort will ensure all of the patient's healthcare and hygiene needs are met throughout the duration of the trip.
Stretcher accommodation on a commercial flight – This service is perfect for non-critical patients who can travel on a commercial plane but need extra space, privacy, and equipment.
No matter which service you need, you're guaranteed to receive the highest quality care when you choose Air Ambulance Worldwide. Our services are bed-to-bed, meaning we can transport you from your room at your discharging hospital to your receiving medical facility. Our skilled, compassionate staff will ensure your experience is as comfortable and stress-free as possible, and that you're cared for every step of the way.
To learn more about our air ambulance services, or to schedule medical air transport to or from San Salvador, contact Air Ambulance Worldwide at 877-922-9675 or 727-781-1198.