Air Ambulance Services for Rio de Janeiro & Elsewhere in Brazil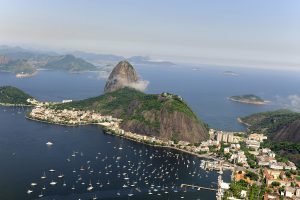 Serious illness or injury can occur any time and strike anyone. If one or the other happens to you, a loved one or a patient under your care while on a visit to Rio de Janeiro or elsewhere in Brazil and you are unable to fly commercially, allow Air Ambulance Worldwide to come to your rescue.
As one of the premier medical air transport companies in the world, Air Ambulance Worldwide maintains the highest standards when it comes to every aspect of a long-distance air transfer to or from Rio de Janeiro. Our priorities are:
Patient comfort
Outstanding patient medical care
Maintaining our perfect safety record
Providing an efficient medical air transport experience
Providing services to or from virtually anywhere in the world
Our pilots are full-time employees with an average of 14,000 hours in the air, and our fleet of state-of-the-art aircraft are equipped with comfort, safety and comprehensive medical care in mind. Our medical staff includes physicians, nurses and other medical professionals across a wide range of specialties, so we stand ready to attend to any type of illness or injury. Our staff also includes an insurance specialist who can help you file and expedite claims through your insurance company.
No matter if you or a loved one needs an emergency air ambulance transfer out of Rio de Janeiro, a stretcher flight on an international trip or a trained medical professional to serve as an escort on a commercial flight, let Air Ambulance Worldwide handle all of the details. Call us any day of the year, 24 hours a day, toll free: 877-922-9675. We also are available via email if you have questions or would like to schedule a medical air transfer.