Air Ambulance Worldwide Provides Comfortable and Safe Medical Transportation to and from Pittsburgh, PA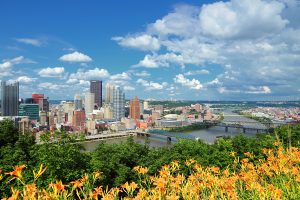 As a leading mobile intensive care provider, Air Ambulance Worldwide is proud to offer air transportation services to and from Pittsburgh, Pennsylvania, or anywhere else in the world for those in medically compromised conditions. We have made it our mission to provide patients with the safest and most comfortable flights possible. In fact, our commitment to exceptional service and our unblemished safety record have earned us the prestigious EURAMI certification as well as a Gold rating with ARGUS.
When you turn to Air Ambulance Worldwide for your or your loved one's medical transfer, we will work with you to determine the best means of air travel based on the patient's medical condition. We offer three different levels of service to and from Pittsburgh, PA, including air ambulance transportation, medical escorts, and commercial stretcher equipment. Regardless of what service the patient requires, we work hard to ensure that the journey is as smooth and stress-free as possible. We do this by:
Handling all logistics and providing one point-of-contact throughout the entire process
Obtaining the patient's medical records prior to the journey to ensure there is no disruption is medical care
Assigning each patient an Air Ambulance Worldwide medical team based on his or her specific requirements
Providing full bedside-to-bedside assistance, including ground transportation in both the departure and arrival cities
Regularly updating relatives and caregivers throughout the transportation process
Working diligently to obtain any insurance reimbursements for the patient
Caring Medical Transportation to and From Hospitals Throughout the Pittsburgh, PA, Area
Another great benefit of working with Air Ambulance Worldwide is that we have an excellent relationship with many of the hospitals in the Pittsburgh area. These relationships allow us to transport our patients in and out of hospitals efficiently while providing the highest level of care throughout the entire transportation process. Some of the hospitals in the area that we have developed relationships with include:
University of Pittsburgh Medical Center
Allegany County Hospital
Cleveland Clinic
Ohio State University Hospital
West Virginia University Hospital
WVU Children's Hospital
Ruby Memorial Hospital
No matter what type of medical transportation you require, one of our dedicated flight coordinators is ready to help 24 hours a day, seven days a week. To schedule a medical flight to or from Pittsburgh, PA, or anywhere else in the world, contact Air Ambulance Worldwide today.