Air Ambulance Transportation for Those in Need to and from Madrid, Spain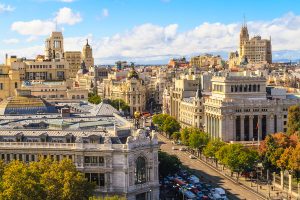 If you, a loved one, or a patient in your care is in need of air ambulance transportation or another mobile intensive care service to or from Madrid, Spain, or anywhere else in the world, turn to the dedicated professionals at Air Ambulance Worldwide. As a leading medical transportation company in the industry, we are proud to provide a variety of services for men, women, and children with varying medical conditions. Our commitment to safety, top-notch medical care, and customer comfort have helped earn us prestigious recognitions, including the Argus Gold rating, and we are one of the few companies in the United States to have been awarded the EURAMI certification.
When you turn to Air Ambulance Worldwide for medical transportation to or from Madrid, Spain, we will help you select the best service to suit the patient's specific medical conditions. Some of the services we provide include:
Medical escorts – If a patient is in need of medical assistance on a commercial flight, we can provide a nurse to accompany the patient and provide any necessary basic hygiene care and medication administration as well as medical equipment such as wheelchairs and oxygen tanks.
Air ambulance transportation – This service is used for both emergency and non-emergency private medical flights and includes full bedside-to-bedside assistance, such as all necessary ground transportation, a team of medical personnel who accompany the patient throughout the entire trip, and locating and arranging for a receiving facility.
Commercial stretchers – For patients traveling internationally who require a stretcher on their flight, we can make all necessary arrangements with the airline to ensure the necessary equipment is installed and ready upon the patient's arrival.
For more information on the medical transportation services we provide to and from Madrid, Spain, or anywhere else in the world, contact Air Ambulance Worldwide today.