Air Ambulance Worldwide Provides Medical Air Transport Services to and from Illinois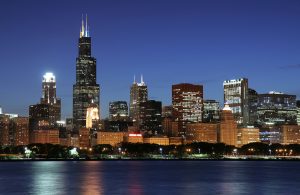 Air Ambulance Worldwide. provides the utmost in safety and comfort for patients who must travel to or from a city in Illinois and require specialized medical care. Our team of licensed medical professionals, flight coordinators, and seasoned pilots with an average of 14,000 hours of experience will ensure that your flight to or from Illinois is safe, efficient, and comfortable.
Our air ambulance and medical transport services for Illinois residents or visitors include:
A team member for every need or question – At least two of our licensed medical team members will assist you in Air Ambulance's comprehensive bedside-to-bedside service. We take care of every detail including coordinating ground transportation and organizing the specifics of your arrival at the receiving facility. We also have an on-staff insurance specialist who can answer any questions pertaining to insurance and your billing.
A medical escort for safety and comfort– Whether you need someone to administer medications, attend to basic hygiene needs, configure an oxygen tank, or just provide a feeling of safety and comfort during a flight, one of our medical professionals is here to help.
Stretchers for international commercial flights – We communicate and make arrangements with the airline to accommodate the stretcher-bound patient and any additional equipment needed. Our medical staff will attend to you for the duration of your journey to or from Illinois.
No matter what time of day or night, an Air Ambulance Worldwide representative will be available to take your toll-free call at 877-922-9675 to answer any questions you may have about our services to and from Illinois. We are also available to answer email 24 hours a day, 7 days a week.