Comfortable and Reliable Air Ambulance Services to or from Houston, TX & Other Nearby Areas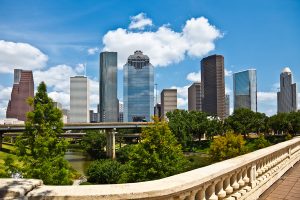 Air Ambulance Worldwide is an elite mobile intensive care provider that can assist you or your loved one in the travel to or from Houston, Texas, or anywhere else in the world. We offer a range of transport services catering to those in medically compromised conditions that allow for safe and comfortable travel. Whether you or a loved one has been badly injured on vacation, is relocating to be closer to family, or needs to be transported to a medical facility, Air Ambulance Worldwide is the company you can truly rely on to provide the quality of service and peace of mind that only comes with an experienced and educated team.
At Air Ambulance Worldwide, we strive to set ourselves apart from other medical transport companies. Our pristine safety record has earned us an ARGUS Gold rating and an EURAMI accreditation, both of which recognize mobile intensive care providers worldwide who follow leading medical protocols and have impeccable aviation records. Our medical team members, which includes doctors, nurses, and paramedics, have undergone extensive training in critical care environments, and our full-time pilots have at least 15 years of experience in the industry.
When you rely on Air Ambulance Worldwide for medical transportation to or from Houston, TX, we offer a number of services to best suit you or your loved one's particular medical situation and to provide the safest and smoothest means of travel possible. Some of these services include:
Air ambulances – These flights are available with a number of aircraft options for maximum cost efficiency. This is a full bedside-to-bedside service, so you can have peace of mind knowing that every aspect of you or your loved one's trip is completely taken care of from start to finish.
Medical escorts – We offer bedside-to-bedside commercial flight assistance for those too injured or ill to travel commercially on their own.
Stretcher flights – Air Ambulance Worldwide can arrange for a stretcher and other required medical equipment for those traveling on an international flight.
To learn more about the mobile intensive care services we provide to or from Houston, TX, contact Air Ambulance Worldwide today.