Air Ambulance Service to or from Hartford, CT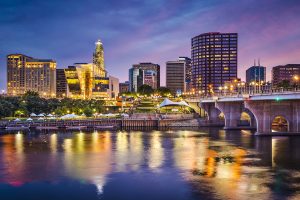 Air Ambulance Worldwide is a medical escort and transportation provider. We proudly transport patients to or from Hartford, and other locations throughout Connecticut. In fact, we service nearly every continent in the world, with the exception of Antarctica, providing multiple levels of care depending on the needs of the patient. Whether you, a loved one, or a patient in your care needs to travel with the aid of medical support services, Air Ambulance Worldwide is the company to trust.
We offer three levels of service for the patient's traveling comfort and safety. Our full air ambulance service utilizes our specially equipped aircraft and staff. Our medical escort service makes medical staff available to travel with the patient during a commercial flight. Our commercial stretcher flight service involves our experts making arrangements with an airline to transport the patient on a stretcher, rather than sitting upright.
When you turn to Air Ambulance Worldwide for any of our service options, you can rest easy knowing that your team will include:
Highly experienced pilots who have accrued an average of 14,000 flight hours
Medical staff with significant experience working in ICUs/CCUs
A dedicated flight coordinator who will manage all of the details of pertaining to your safe transport and be available to answer any questions you may have
If this weren't enough, our company takes our service a step further. We'll happily arrange all of the details involving your case as well, such as assuring delivery of your medical records to your final destination, scheduling ground transport to and from the airport, and even dealing with your insurance company to file claims when necessary.
Whether you're seeking a world-class medical transportation provider to safely relocate you or a loved one to or from Hartford, CT, or any other nearby community, you can rely on Air Ambulance Worldwide. E-mail or call us today at 877-922-9675, 24 hours a day, seven days a week, to learn more.