Call Air Ambulance Worldwide for Safe, Comfortable Medical Transportation Services to and from Dublin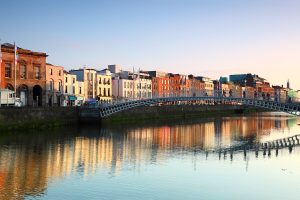 When emergency strikes, Air Ambulance Worldwide is here to help 24 hours a day, seven days a week. Whether you, a loved one, or a patient in your care has fallen ill during travel, needs to be transported to another medical facility, or simply would like a medical companion on a commercial flight to or from Dublin, or any other city in Ireland, our dedicated and experienced team can make your trip as safe and stress-free as possible.
As one of the leading providers of mobile intensive care in the industry, Air Ambulance Worldwide offers a wide range of medical flight services, including air ambulances, medical escorts, and commercial airline stretcher services. One of our knowledgeable and dedicated flight coordinators will work with you to determine the best service to suit the patient's medical needs, and will handle all necessary travel logistics from start to finish.
When patients turn to Air Ambulance Worldwide for their medical air transportation to or from Dublin, they know that they are in the hands of capable and compassionate industry professionals. That's because:
All of our Air Ambulance medical team members have a minimum of five years of ICU/CCU experience.
Our full-time, seasoned pilots have an average of 2,500 flight hours and over 15 years' experience in the industry.
Our flawless safety record and dedication to superior medical protocol has earned as an ARGUS Gold rating and a EURAMI accreditation.
We provide our customers one point-of-contact throughout the entire process for personal, 24-7 assistance.
To learn more about the medical air transportation services we provide to and from Dublin, or any other city in Ireland, call Air Ambulance Worldwide today.