Air Ambulance Company Serving Patients Traveling to or from Birmingham, AL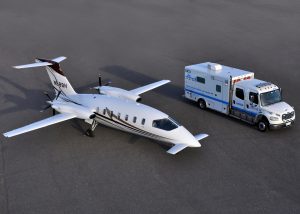 If you're trying to decide which air ambulance company can best assist you, a loved one, or a patient in your care who needs to travel to or from Birmingham, Alabama, look no further than Air Ambulance Worldwide We provide caring, compassionate travel assistance to medically compromised men, women, and children who need to travel by air, either privately or commercially. We have been awarded EURAMI certification and are proud to have a gold rating from ARGUS International – two of many indicators that we provide safe, secure transportation and outstanding client service.
As a full-service air ambulance company, we provide several levels of assistance for patients traveling to or from Birmingham, AL, including:
Private transportation – We have several private aircraft that have been specially outfitted to serve as airborne ambulances. Each flight is piloted by a seasoned aviator, and two members of our highly trained medical staff accompany the patient from bedside to bedside.
Commercial escort – A member of our team will accompany the client aboard a commercial flight, assisting with medical, hygiene, and comfort needs along the way. This is a comprehensive bedside-to-bedside service.
Stretcher service – For patients who need to remain prone during international transport, we will make arrangements with a commercial airline to accommodate a stretcher, surrounded by a privacy curtain. A member of our medical team will accompany the patient during the flight to ensure his or her needs are met.
To learn more about the services we provide, contact Air Ambulance Worldwide today. Discover for yourself why so many patients traveling to or from Birmingham, AL, have made us their air ambulance company of choice.