Air Ambulance Worldwide is One of the Medical Flight Industry's Leading Companies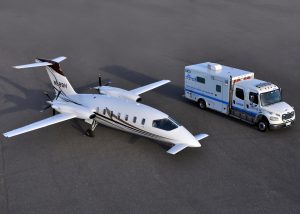 Of all the air ambulance companies in the world, countless patients have come to trust Air Ambulance Worldwide due to our genuine commitment to providing exceptional patient care, safe and prompt travel, and unrivaled insurance support. Each of our medical transportation services is specifically tailored to the patient, meaning our aircraft will be outfitted with the necessary equipment, patient specific medications, and a hand-picked medical team to meet patient's individual needs.
Whether you're faced with the dilemma of relocating an elderly loved one, or you require specialized care half-way across the globe, you can trust that you are in the most capable of hands with Air Ambulance Worldwide. Our company proudly offers a number of benefits that other air ambulance companies simply can't or won't deliver. For instance:
We provide a point-of-contact throughout the entire duration of the trip so you and your loved ones can be at ease during an emotionally trying time.
Our expert flight coordinators handle all of the logistics for ground and flight transportation.
Our fulltime, experienced pilots have pristine safety records and at least 15 years of experience.
Our services include private medical jets, commercial stretcher accommodations, and medical escorts for commercial travel.
Our insurance specialists work diligently to ensure that our patients' insurance claims are processed.
In addition to being incident and accident free, Air Ambulance Worldwide has earned the highly respected EURAMI accreditation that signifies our company's superior medical personnel, aircraft medical configuration and operations, and company's internal capabilities and management. What's more, we've been awarded the ARGUS gold rating, among other commendations, which speaks volumes about our dedication to safety.
To learn more about what sets Air Ambulance Worldwide apart from other medical transport companies across the globe, contact us today at 727-781-1198, or call our toll free number at 877-922-9675.