Air Ambulance, Medical Air Transport for California Cities, including LA, San Francisco, San Diego & Beyond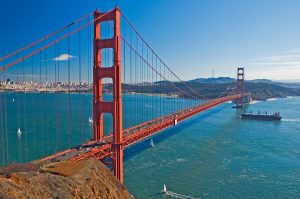 If you are stranded because of a medical issue and need to fly back home to or from California, Air Ambulance Worldwide is here to help. Sometimes, a medical issue renders commercial air travel impractical. For example, if you are on vacation in San Francisco and suffer a serious injury that requires constant medical attention, Air Ambulance Worldwide can fly you home safely, conveniently, and with absolutely no stress. Similarly, if you or a loved one cannot travel by air alone because of an ongoing health problem, we can furnish a medically trained escort to assist with every aspect of the trip.
Air Ambulance Worldwide serves every city in California, from San Diego to Sacramento, Napa to Los Angeles. We also make medical flights to just about everywhere in the world, excluding North Korea and Antarctica. Here is how our service works:
We coordinate patient transfer from the current facility to the destination facility, including any necessary ground transportation.
We provide the receiving facility with the patient's detailed, up-to-date medical report.
We regularly communicate with the patient's family members throughout the transfer process so that everyone stays well-informed.
We assign specialized medical escorts to the flight, including paramedics, nurses, respiratory therapists, physicians, and other specialists as required by the patient.
When you take advantage of our air ambulance service to or from California, you'll see first-hand our commitment to the two most important aspects of a medical air transport: safety and compassionate, knowledgeable medical care. Our pilots are seasoned with thousands of hours of flight time. Plus, our medical staffers have extensive ICU/CCU experience, so no medical contingency will ever catch them off guard.
To schedule a medical transfer service with Air Ambulance Worldwide or to learn more about how we can assist you or your patient, call us toll-free call at 877-922-9675 24 hours a day, seven days a week. We can also be reached via e-mail.