Medical Transport Services for Emergency and Non-Emergency Patients Worldwide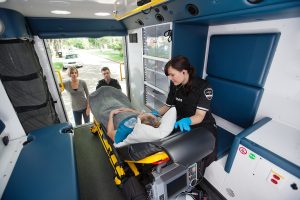 The medical transport services provided by Air Ambulance Worldwide are among the most efficient and the safest in the world. No matter where your loved one is located, no matter what sort of illness or injury has beset them, you can rely on Air Ambulance Worldwide to give them the best possible care during their journey.
Air Ambulance Worldwide's medical transport services are broken down into three different categories based on the needs of the patient, classified as air ambulance flights, commercial airline stretcher flights, and medical escort flights. Here is a brief overview of what you can expect when you use one of our services:
Full bedside to bedside service – We will take care of every detail of your journey from start to finish, including acquiring an up to date medical report and organizing your arrival with the receiving facility.
Ground transportation – We provide easy transportation between medical facilities and the air ambulance in both the arrival and departure locations.
Specialized team of medics – Depending on your specific needs, we will provide a team of nurses, paramedics or other assorted specialists who have received at least five years' minimum of ICU/CCU experience
Contact with loved ones – Family members and other loved ones will receive updates of the patient throughout the transportation process.
If you would like to learn more about our medical transport services, please call 727-781-1198 or e-mail us today. Your phone call will be answered 24 hours a day, 7 days a week. We proudly serve patients and case managers from the United States to Europe, Canada to the Caribbean and worldwide.