Air Ambulance Worldwide Provides Medical Flights to and from Anywhere on the Globe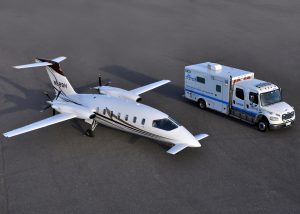 If you are in need of a company that provides medical flights to or from anywhere in the world, whether for yourself or a patient in your care, look no further than Air Ambulance Worldwide. We are a leading, full-service mobile intensive care provider that offers world-class transportation services to those in need of medical attention while traveling. As a pioneer in the air ambulance industry, we have made it our mission to set the standard for quality care, as well as safe and comfortable medical flights. In fact, thanks to our impeccable safety record and adherence to the strictest medical protocol, we have earned a EURAMI accreditation as well as a Gold rating from ARGUS.
When you rely on Air Ambulance Worldwide for medical transport services or other intensive care transportation, we can accommodate nearly any medical need you or your loved one might have, and strive to make your journey as easy as possible. We do this by:
Offering multiple aircraft for maximum cost efficiency and to meet the specific requirements of our patients. Our options include both pressurized and non-pressurized medical flights.
Managing all logistics of the trip, making it as smooth and stress-free as possible.
Working relentlessly to achieve any insurance coverage reimbursement possible.
Employing extensively trained medical staff with a minimum of five years of ICU/CCU experience, as well as seasoned pilots with at least 15 years of experience in the industry.
Staffing neonatal and pediatric specialists.
Providing one point-of-contract for our customers throughout their entire travel process.
And more
If you are looking for safe and reliable medical flights to or from anywhere in the world for yourself or for a patient in your care, call Air Ambulance Worldwide today.