Premier Air Ambulance Services to or from Seattle WA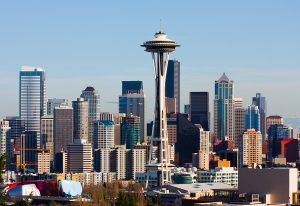 The two priorities for Air Ambulance Worldwide are safety and outstanding medical care. With an unblemished aviation record and a medical staff with unparalleled ICU and/or CCU experience, you know exactly what you'll get from us if a loved one, a patient under your care or you require medical air transportation to or from Seattle, WA. And what you'll get is the smoothest, safest medical flight experience available.
The bed-to-bed services offered by Air Ambulance Worldwide are ideal for patients who are unable to travel to or from Seattle via commercial air because of a medical condition, or if a patient is unable to fly unaccompanied on a commercial airline. Our three main services include:
Air ambulance – Comprehensive emergency or non-emergency transportation; the crew includes at least two of our medical team members; the service includes arrangement for ground transportation; assistance in locating and arranging for a receiving facility, if necessary; insurance assistance for claims with your personal insurance company.
Commercial stretcher medical flights (international flights only) – Special arrangements are made with the airline to accommodate a stretcher and any required equipment on board the aircraft; bed-to-bed service includes medical attention from start to finish; ground transportation is arranged.
Medical escort – a member of the medical staff accompanies the patient as he or she makes a commercial flight; the patient's basic needs are attended to, including hygiene, oxygen, medication and overall comfort and well-being.
Air Ambulance Worldwide provides exemplary medical air transport services for flights between Seattle, WA, and every inhabited region in the world. If you require our help, please call toll free (877-922-9675) or contact us via email seven days a week, 365 days a year.