What Is a Medical Flight?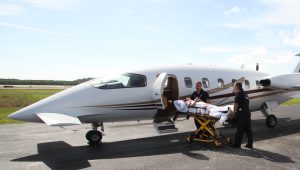 A medical flight is the transport via airplane of a sick or injured individual who requires special medical attention from trained medical professionals during the flight. Medical flights will have a variety of medical equipment available, as well as patient-specific medications, to ensure that the patient is as safe and comfortable as possible throughout the duration of the flight.
Who Needs a Medical Flight?
There a variety of reasons why people would need to take a medical flight. For instance, if a person is on vacation and suffers a severe injury, he or she may want to take a medical flight back to his or her home country to receive treatment. Or, if someone has a rare disease or disorder that requires them to travel a long distance to seek specialized care, they can take a medical flight and receive the necessary care during the trip.
Air Ambulance Worldwide Offers Safe Medical Flights to and from Almost Anywhere in the World
At Air Ambulance Worldwide, we put an emphasis on providing the safest medical flights possible to all of our patients, which is why we have earned an ARGUS Gold rating, a highly regarded safety rating for private charter flights. We have earned this prestigious rating because we:
Equip all of our aircraft with the same medical equipment that you would find inside of an ICU
Hire seasoned pilots with years of experience
Have medical staff members on all of our flights who are trained in flight physiology and have a minimum of five years of experience working in an ICU
What's more, we also offer bed-to-bed services, meaning we will pick you up from wherever you are, drive you to your medical flight, and then drop you off at your final location and ensure that you're in good hands before we leave. To learn more about the medical flights that Air Ambulance Worldwide provides, contact us today. We have flight coordinators standing by 24/7 who can answer any questions that you may have.