Medevac Services for People Traveling to and from Miami, FL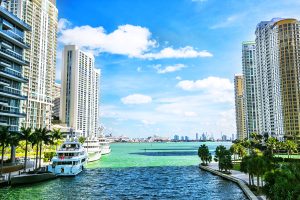 If you need a medevac to transport you or a loved one to or from Miami, Florida, the experts at Air Ambulance Worldwide have you covered. We specialize in bed-to-bed medical air transportation, meaning we handle all aspects of getting someone with special medical needs from their starting location to their destination. With as little as two hours' notice in select cases, our staff can have you on a medevac and on your way to your desired location.
If you need a medevac to or from Miami, FL, we can transport you on one of our private medical planes. Our planes can accommodate patients of all ages and levels of health and are equipped so that our medical personnel can provide you continuous care throughout the flight. We'll staff your medevac with specialists who can care for your unique needs, and we'll make the traveling process as stress-free as possible.
In order to ensure that our team is fully capable of handling any situation that could arise while you or your loved one is being transported via medevac, our staff is comprised of only highly experienced and highly trained professionals. Our medical personnel includes licensed physicians, nurses, paramedics, and respiratory therapists, among other types of medical professionals. They all have a minimum of five years of ICU, CCU, or emergency medicine experience, and many have a variety of other certifications, such as Advanced Trauma Life Support. Plus, our pilots have thousands of hours of certified flight time and spotless safety records.
It should be noted that if this is an emergency, call 911 immediately. Otherwise, contact Air Ambulance Worldwide to learn more about our medevac services or to schedule a medically assisted flight to or from Miami, FL. You can reach us at 877-922-9675 or 727-781-1198.