Air Ambulance and Other Medical Transport Services to and from Vancouver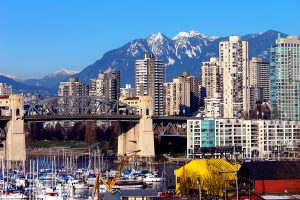 Air Ambulance Worldwide is a trusted medical air transport provider serving Vancouver and other cities in Canada, as well as anywhere else in the world. We provide transportation that can be set up almost immediately – in some cases, in as little as two hours – as well as services that can be scheduled far in advance of you or your loved one's intended trip.
Turning to Air Ambulance Worldwide as your mobile intensive care provider means that you are relieved of much of the stress and headache that goes into planning and executing a trip that requires medical assistance. Our experienced team of seasoned pilots, medical personnel, and knowledgeable flight coordinators make traveling with medically compromised patients as smooth and worry-free as possible.
Air Ambulance Worldwide provides a number of medical air transport services to and from the Vancouver area, including:
Air ambulances – We offer emergency and non-emergency transportation on multiple aircrafts for maximum cost efficiency. This service is completely bedside-to-bedside, meaning our trained medical staff handles everything from ground transportation to and from the airport to escorting the patient to his or her destination upon arrival.
Commercial medical escorts – If a patient is too ill or injured to travel commercially on their own, one of our experienced Air Ambulance nurses will accompany the patient throughout the entire journey. This service includes obtaining a full medical report for the patient at no extra charge to determine all appropriate medical needs during the trip, arranging for the necessary ground transportation, and wheelchair and oxygen services if needed.
Commercial stretchers – If a patient is stretcher-bound and must travel internationally, our commercial stretcher services ensure that all necessary arrangements are made to accommodate the patient before, during, and after the flight. Air Ambulance Worldwide will also provide a nurse or doctor to attend to the patient throughout the duration of the trip.
No matter when or where you find yourself in need of medical air transportation, we are here to help 24 hours a day, seven days a week. To learn more about the mobile intensive care services we provide in Vancouver or any other city in Canada or around the world, contact Air Ambulance Worldwide today.