World-Class Air Ambulance Services to or from San Antonio, Texas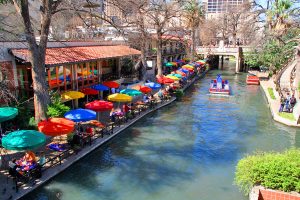 Air Ambulance Worldwide is proud to offer safe medical air transportation for patients traveling to or from San Antonio, Texas. If you were injured on vacation or came down with an illness anywhere in the world, we can get you home safe and sound while tending to your medical needs.
Our air ambulance services go far beyond just transferring patients on routine medical flights to or from San Antonio, however. We are able to combine air transportation with expert medical attention to address any needs of the patient. To that end, our core services are available in three distinct facets:
Medical escort – A member of our medical staff will tend to the patient's basic hygiene, oxygen, medication, and overall comfort during a commercial flight.
Air ambulance – At least two of our experienced medical team members will accompany the patient throughout the flight as well as providing bed-to-bed service. We will also help locate and arrange for a receiving facility in San Antonio, TX, and assist with private insurance claims, if needed.
Stretchers for international flights – We can arrange for a stretcher and any other necessary medical equipment on board an international flight and will provide medical personnel for the patient's care during the trip.
We feature a perfect safety record that has earned us the dual distinction of an ARGUS Gold Safety Rating and EURAMI accreditation, which is awarded only to air ambulance companies with outstanding medical protocols and excellent safety records. As our name suggests, we also fly worldwide to and from destinations around the globe. For an all-inclusive quote on air ambulance services to or from San Antonio, Texas, call toll free (877-922-9675) or email us any time of day or night.