World-Class Air Ambulance Services to or from New Orleans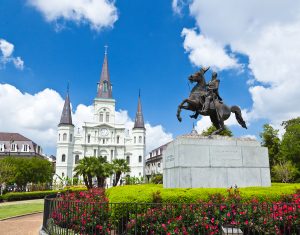 The Air Ambulance Worldwide team is dedicated to making sure that you, an ailing loved one, or a patient under your care will experience the smoothest, safest air transport experience available on medical flights to or from New Orleans, Louisiana. The team at Air Ambulance Worldwide is guided by the firm commitment to alleviating the burden and stress that often affects patients or their family members should they require special medical needs during air travel. Our services are designed to cover a wide range of requirements if you need us for a medical air transport to or from virtually any country in the world.
Our comprehensive air ambulance services include either critical or non-emergency care for patients traveling to or from New Orleans, LA, and also consist of:
Ground transportation – We'll coordinate all traveling between the departure and arrival cities and between the medical facilities and the aircraft.
Bed-to-bed service – We'll pick up the patient at their current facility and deliver them to the receiving facility. Additionally, we'll obtain an up-to-date medical report to provide to the receiving facility.
Experienced medical personnel – Depending on the patient's needs, we can provide a range of specialists, such as paramedics, nurses, respiratory therapists, physicians, neo-natal specialists, and more.
Communication with family members – We'll regularly update the patient's family so that they can monitor travel every step of the way.
Your Air Ambulance Worldwide support team will include:
An attentive flight coordinator who will oversee the details before, during, and after travel.
Seasoned pilots and air crew with thousands of hours of flight experience under their belts.
An on-staff insurance specialist to help with billing issues and with collecting reimbursements from your insurance company.
With Air Ambulance Worldwide, you know you are choosing one of the safest medical air service available. In fact, we have earned both an ARGUS Gold rating and the prestigious EURAMI accreditation because of our flawless safety record.
For more information on how Air Ambulance Worldwide can help with your medical transport needs to or from New Orleans, LA, call us toll free at 877-922-9675 or e-mail us today.