Air Ambulance Service to and from Fort Lauderdale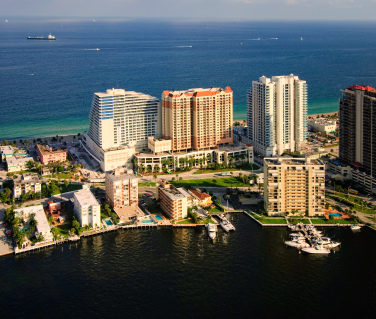 If you are in Fort Lauderdale or need to get there ASAP and are unable to travel by commercial air because of a medical condition or other infirmity, turn to Air Ambulance Worldwide for comprehensive professional assistance. Our medical air transport service will alleviate all the hassle generally associated with commercial travel, and traveling with a debilitating medical condition, in particular.
Air Ambulance Worldwide has a perfect safety record, and our state-of-the-art aircraft – along with our team of seasoned pilots – stand ready to transport you or a loved one to or from Fort Lauderdale or any other city in South Florida. In addition to an ARGUS Gold safety rating, here are some highlights of our medical air transport services:
We are available to contact 24 hours a day, seven days a week.
In addition to Fort Lauderdale, we fly to or from virtually anywhere in the world, including Western Europe (Paris, Berlin, London, Madrid, etc.), Asia, and the Caribbean.
We have a variety of different aircraft available to provide air ambulance services, including Lear Jets, Gulfstream GIII, a twin engine, and our flagship aircraft, the Piaggio P180. With more than 50 percent more interior space than a Learjet, the Piaggio P180 provides ample room to work closely with the patient and accommodate special medical equipment. This aircraft can carry up to three passengers, three large suitcases, and a wheelchair. It also includes a closed lavatory on board.
Every member of our medical team has ICU/CCU experience. We also have specialists in neonatal and pediatric care.
Every client receives a comprehensive upfront quote, which ensures there are no hidden costs.
Our services also include medical escorts for seniors and stretcher flights on international airlines. We also have an insurance specialist on staff who can assist with air ambulance claims with your personal insurance company. Please call (toll free) 877-922-9675 or e-mail us any time of day if you require professional medical air transport service to or from Fort Lauderdale or anyplace else in South Florida.