Air Ambulance Services for Baltimore, MD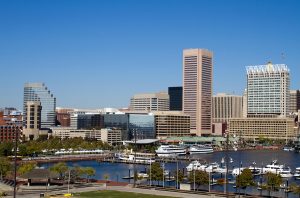 Air Ambulance Worldwide provides the safest, most efficient medical air transport services available for patients who wish to travel to or from Baltimore, MD, but are unable to do so on a standard commercial flight. Regardless of what you, a loved one or a patient under your care require, our team stands ready to help. Every aspect of the flight will be handled for you.
Who requires our air ambulance services? Baltimore residents who are on vacation when they are severely injured and are unable to fly commercially; people who need assistance from a medical escort during a commercial flight; or people who are overseas when they are injured or become ill and need special arrangements for a stretcher and other equipment on an international flight. No matter what service we perform for you, we will handle every aspect, including:
Ambulance service provided in both the departure and arrival cities to and from the aircraft.
Obtaining of an up-to-date medical report, as well as providing medical reports to and coordinating with the receiving facility.
A medical team composed of experienced professionals who can meet the specific medical needs of the patient. This can include paramedics, nurses, respiratory therapists, physicians, and other specialists.
Regular updates will be provided throughout the transportation process, so relatives remain informed and at ease.
In addition to the finest medical care available in the air ambulance industry, we provide Baltimore residents the peace of mind that comes with a perfect safety record. This unblemished history has earned Air Ambulance Worldwide an ARGUS Gold Safety Rating and EURAMI accreditation. To schedule one of our services, or for answers to any of your questions, contact us with a toll-free phone call at 877-922-9675 or through email. We are available 24 hours a day, seven days a week to help when you need our services.