Air Ambulance Service to or from Cities in Arizona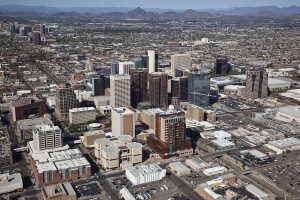 If you or someone in your care needs to fly to or from Arizona, but poor health or reduced mobility makes it difficult or impossible to fly without professional assistance or medical attention, allow Air Ambulance Worldwide to come to your aid. Our goal is always to provide the safest, smoothest medical air transport services possible for those in need of assistance with travel to or from virtually anywhere in the world, including Arizona cities such as Scottsdale, Phoenix and Flagstaff.
If you find yourself stuck with a medical problem in a far-off locale and need to return home to Arizona, turn to Air Ambulance Worldwide and every detail of the trip will be handled efficiently and professionally. No other medical air transport company can match the combination of our impeccable safety record and attentive medical care. Our pilots are seasoned full-time professionals, and our specially selected medical teams are the best in the industry.
In addition, every client is assigned a dedicated flight manager who will coordinate every aspect of the journey, from ground transportation at the pick-up site to making arrangements with the arrival facility. Our staff also includes an insurance specialist who will answer all of your private insurance questions and help you with claims and collections.
Our core services include:
Bed-to-bed air ambulance transportation
Medical escort services for the infirm or geriatric patients
Arrangement for stretcher flights on international trips
To schedule one of our air ambulance services to or from Arizona, contact Air Ambulance Worldwide with a toll-free phone call at 877-922-9675. We are available 24 hours a day, seven days a week. We also can be reached via e-mail around the clock.