Call Air Ambulance Worldwide for Medical Transportation Services to or from Alaska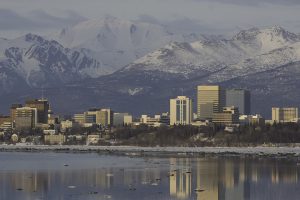 When it comes to providing first-class medical transportation, Air Ambulance Worldwide takes the lead for services to and from Alaska or anywhere else in the world. Our stringent medical protocols and unwavering commitment to safety have earned us a European Aero-Medical Institute (EURAMI) certification, a prestigious recognition given to few U.S. air ambulance businesses. We also have earned a Gold rating with ARGUS, one of the most recognized independent sources for overall operator quality. Our proven track record in the industry means that you are truly getting the safest and highest quality services when you rely on Air Ambulance Worldwide to provide you, a loved one, or a patient in your care with critical air transportation solutions.
As your mobile intensive care provider, Air Ambulance Worldwide offers three different levels of service. These include air ambulance transportation, commercial medical escorts, and commercial stretchers. Our comprehensive services to or from Alaska are catered to the specific needs of the patient, and can include:
Full bedside-to-bedside service: We meet our patients at their home or the discharging facility to perform a full medical assessment. We then transfer them to the airplane, where a team of highly trained medical staff will accompany them throughout the duration of the flight. Upon arrival, we escort the patients to their destination.
Obtaining a full medical report on the patient prior to the trip to ensure that there is no interruption in medical care.
A selection of multiple aircraft for maximum cost efficiency and to suit the patient's specific medical requirements.
One Air Ambulance point-of-contact who will manage all logistics throughout the entire process, making the trip easy to book and take despite the condition of the patient.
Air Ambulance insurance specialists who work diligently to obtain any insurance coverage reimbursements.
Travel to or from anywhere on the globe, including North and South America.
To learn more about the medical transportation services we provide to and from Alaska or anywhere else in the world, call Air Ambulance Worldwide today.